Products
PDF Converter Elite 3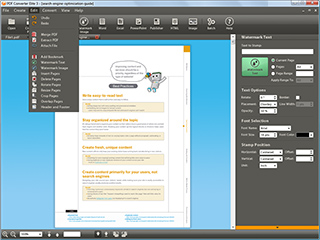 PDF Converter Elite is a premium software to convert PDF to Word, Excel, PowerPoint, Publisher. Create secure PDF and edit PDF. The only PDF solution for all your business needs.
PDF Converter enables you to:
Create PDF files from 300+ different MS Windows applications that are 100% PDF compatible.
Take images and text OUT of PDF and image documents move it into the format you need, such as MS Word, Excel and PowerPoint.
Secure your PDFs so that you can control how they are used by others.
Modify and rework your PDF documents.
Convert Tiff documents into other formats like Word, Excel, PowerPoint and Publisher.
One click conversion into PDF from MS Office.
---
FREE PDF SOLUTIONS
FreePDF Creator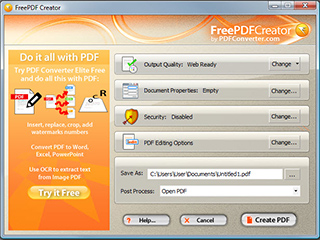 FreePDF Creator is a fast desktop tool to create PDFs from virtually any printable Windows format.
Key Features:
Create PDF files from over 300 file formats
Unlimited use
Quick and easy installation
Easy and high quality of Microsoft Office formats conversion to PDF
Built-in support for Asian lanaguage fonts
Supports Windows Vista, Windows 7, Windows 8 and more
---
Free PDF Converter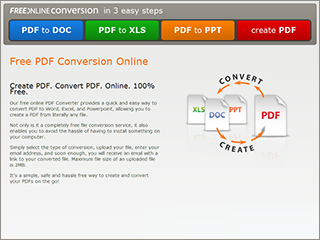 Free PDF Converter is a web based tool to convert PDF to Word, Excel, PowerPoint and create PDF files on the fly.
Key Features:
Free
No installation required
Safe and easy way to convert and create PDF files
Maximum file size of uploaded and converted documents is 2MB