Microsoft PowerPoint 2007 Starter's Guide
Introduction to Microsoft PowerPoint 2007
Microsoft PowerPoint is used to create dynamic, multimedia presentations for professional, non-profit and personal reasons. The program is part of Microsoft's Office 2007 suite of productivity applications. PowerPoint can incorporate images, sounds, charts, graphs and even video files to make highly compelling slide presentations.
PowerPoint saves files using the .PPT and .PPTX file extensions which have become standards for the creation and sharing of slide presentations in many areas of business.
This guide assumes that you have already installed Microsoft PowerPoint or Office with the PowerPoint application and is organized into the following segments:
Opening Microsoft PowerPoint
The PowerPoint 2007 Interface: Introduction of Ribbons
Creating and Opening a Presentation
The AutoContent Wizard
Inserting a New Slide
Formatting Color and Background
Inserting Media
Adding Transitions
Saving as a Presentation
Opening Microsoft PowerPoint
After you have installed Microsoft Office and/or PowerPoint, you will have two ways in which you can open the program. You will have an icon on your desktop and/or quick launch bar and you will be able to navigate to it from your start menu. Depending on whether you used the default installation options you will generally find the Microsoft Office and PowerPoint applications in:


Start grammar, comments and protecting the presentation from further editing.


PowerPoint 2007 Interface
With the introduction of Microsoft Office 2007, there is a new interface called the Ribbon. Some users prefer not to use it and instead use the old drop down menu system. Unfortunately, you cannot simply switch over to the old interface. However, the Ribbon can be closed if you wish and there is a quick launch toolbar that can be customized to show your most often used items.

By double-clicking on the ribbon tab (Home, Insert, etc) or right clicking and choosing minimize the Ribbon to hide or show the full ribbon. You can also open the Ribbon simply by clicking the tab for the features you wish to see.

In the screenshot above you will notice two important features of Microsoft PowerPoint 2007. The Quick Access Toolbar which can be shown either above or below the Ribbon and the Office Button which provides you with basic file manipulation options like save, open, print and send.
The new Ribbon layout has grouped features together in a fairly logical way that is meant to help you navigate them more quickly
Home - General text, font and paragraph manipulation including formatting, alignment and bulleted lists. Creation of new slides, pasting of text, inclusion of Shapes and text editing like select, find and replace.
Insert - Features for adding non-text items to the presentation including Tables, Pictures, Clip Art, Charts, Sound and Video. Also for Hyperlinks, WordArt, Slide numbering and other documents like Excel Spreadsheets and more.
Design - The tab for how the slides are laid out including the use of themes for quickly styling all slides in a presentation for colors, fonts and effects.
Animations - The Ribbon for controlling animations, slide transitions and determining how the slides are advanced (mouse click or automatically).
Slide Show - The Ribbon to check out a presentation slide-by-slide as well as setup a custom show to rearrange slide order or skip slides. Also has built in controls for rehearsing and recording.
Review - The place to make your final changes including spelling, grammar, comments and protecting the presentation from further editing.
View - The area for setting up how you want to see the slides and sorting through them. Also controls zoom, rulers, grids windows and macros.
Add-Ins - The place to go to interact with and administer and PowerPoint and Office add-on programs and features.
Acrobat - The Ribbon tab for creating, sending, reviewing and commenting on PDFs. Also the place to start an Adobe Acrobat Collaboration meeting.
Creating & Opening a Presentation (CTRL-N or CTRL-O)
Once you have opened PowerPoint you will be presented with a single slide that includes a pre-placed Title and Subtitle box. From there you can add new slides from the
Home
Ribbon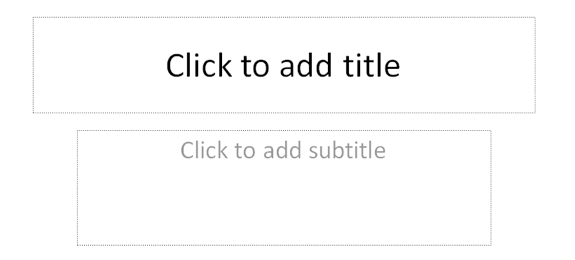 If you wish to begin a new presentation different from the one you are looking at now you may do so by clicking on the Office Button and then choosing New and picking the type of presentation you wish to create.
Click on the Office Button

Select New or Open

Select Create (for New)

If New you will be given a choice of templates. If Open you will be able to browse to the file you wish to open


AutoContent Wizard (Deprecated)
The AutoContent Wizard is not available in Microsoft Office PowerPoint 2007. Now you can simply choose the appropriate template and begin. Each template offers different themes and layouts, including most of those that existed in the AutoContent Wizard. Now you can easily edit a template's text and design, add a company logo, add your own images, or delete text or other content from the template.
Inserting a New Slide
There are numerous ways to add a new slide including right clicking anywhere in the program and choosing
New Slide
or using the
Home
Ribbon and selecting
New Slide

Formatting a Slide's Color and Background
With the new interface it's very easy to style a slide, several slides or an entire presentation. Simply click the
Design
Ribbon (with a slide highlighted) and choose
Background Styles
and then decide the settings you would like.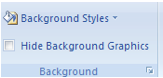 Inserting Media
With the
Insert
Ribbon now you have one-touch options for inserting Pictures, Clip Art, Movies and Sounds, each with its own button to make things quick and easy to find.

Adding Transitions to a Slide Show
Transitions can be applied when moving from one slide to another by highlighting the slide you with to transition to and then clicking the
Animations
Ribbon tab. On the right hand side of the Ribbon is the slide transition interface (see image below). There you can choose how the slide is advanced, if there is a sound, what kind of transition and if you want to apply it to all of the slides in the presentation.


Saving as a Presentation
There are two ways that a PowerPoint presentation can be saved now. The first is simply as a regular presentation that opens in the editor or as a slide show that only opens in slide show mode. You can also protect the presentations so that no one can change the information on it.
Click the Home Button

Choose Save As...

Choose PowerPoint Presentation if you wish to edit the file again or PowerPoint Show if you want to send the file off to others to view or to be seen only as a slide show.
In order to be sure that no one else edits the file you can click on the Review Ribbon tab and use the Protect Presentation button to lock the file down so that no one but yourself can edit the file in any way.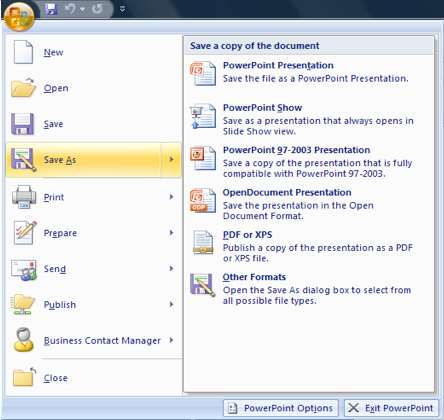 ---
PDF Tips and Tricks
How to do almost anything with PDF
50 Answers, Solutions and Tips