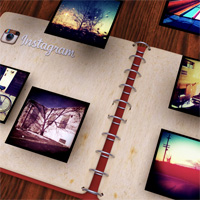 Instagram, thanks to its widespread popularity among smartphone and tablet users, has become a treasure trove of amazing images showcasing special moments in our lives. As the vacation season is drawing to an end, chances are many of you have your Instagram accounts stacked with beautiful albums full of vacation photos – exotic beach escapes or crazy beach parties with your friends, breathtaking places around the globe, backpacking through Europe, captures of funny moments with your kids on a family camping trip, and so on.
Although Instagram provides a great way to share those memorable moments with your family, friends and virtually anyone else, there are occasions when a more traditional, PDF photo album better serves a purpose. It has multiple advantages like:
- PDF photo albums can easily be printed and shared in the most traditional way. Printed PDF album is a great gift for grandpas and grandmas!
- PDF albums can be enjoyed without an Internet connection, on any device, running on any operating system.
- PDF format is great for archiving and making backups of important files, such as vacation and family photos.
But is it actually possible to create a PDF album from Instagram photos? Continue reading >>