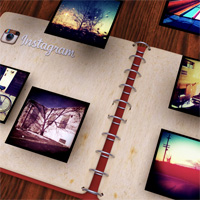 Instagram, thanks to its widespread popularity among smartphone and tablet users, has become a treasure trove of amazing images showcasing special moments in our lives. As the vacation season is drawing to an end, chances are many of you have your Instagram accounts stacked with beautiful albums full of vacation photos – exotic beach escapes or crazy beach parties with your friends, breathtaking places around the globe, backpacking through Europe, captures of funny moments with your kids on a family camping trip, and so on.
Although Instagram provides a great way to share those memorable moments with your family, friends and virtually anyone else, there are occasions when a more traditional, PDF photo album better serves a purpose. It has multiple advantages like:
– PDF photo albums can easily be printed and shared in the most traditional way. Printed PDF album is a great gift for grandpas and grandmas!
– PDF albums can be enjoyed without an Internet connection, on any device, running on any operating system.
– PDF format is great for archiving and making backups of important files, such as vacation and family photos.
But is it actually possible to create a PDF album from Instagram photos? The good news is that it is. As a matter of fact, it is pretty easy to turn your Instagram photos into good old PDF albums that are so convenient.
The first step is to export your desired photos from your Instagram account. To do this you need to use a tool that will allow you to select and download Instagram photos to your local hard drive. There are plenty of such free tools to choose from, depending on your personal preferences and needs. Some of the most popular include:
Instaport.me provides a really simple way to choose and download your Instagram photos. It is a web-based service, so there is nothing to install on your computer. You can get your Instagram photos in 3 straightforward steps:
1) Sign in with your Instagram account.
2) Choose photos that you want to export. You can choose among the following options:
– export all photos from your account
– export only the last X photos you took
– export photos you took in a certain time frame
– export photos of other people that you liked
– export maximum 500 photos marked with a certain #tag
3) Download photos to your computer.
You might have already guessed that if you want to turn your last vacation photos into an album, the option to export photos taken in a specific time frame probably works best. The same applies to school field trips, family outings, weekend getaways, or business conferences and similar career or work related events.
As you can see, it is fairly simple to download and save your Instagram shots to your local hard drive.
Some other Instagram exporting tools that you may want to try include:
Downgram is an equally easy to use service for downloading Instagram images and pics, and it works in much the same way. You sign in with your Instagram account and select images you wish to download. Selected images will be downloaded in a zip file.
InstagramDownloader  is an open source desktop software for downloading Instagram pictures. It runs on Windows OS, so if you are a Windows user, it is a good option for you.
Once you've got all your pics safely saved on your local hard drive, it is easy enough to create awesome PDF photo albums. We have prepared a detailed, step-by-step how-to guide for creating PDF albums with PowerPoint. You can find it here. The tutorial is written using the Microsoft Office 2010 version, but it is consistent with the latest version of the MS Office (for Office 365 subscribers and MS Office 2013 users).