How to Bookmark PDF
Without doubt, PDF bookmarks are a handy and necessary tool when it comes to reading PDF files. They allow users to quickly skip to other locations in the PDF, to navigate through the pages, and to get a quick glance at the PDF content similar as you would with a table of contents.
Not only that, but they can also be easily accessed on the left hand side in Adobe Reader. Users can conveniently click on a heading and view the page. Fortunately, creating bookmarks in PDF files are just as easy as using them. Although you can easily create PDF bookmarks, note that they can only be added to a PDF whose security settings allow it.
To add bookmarks to a PDF manually:
Open your PDF file to the page you want to bookmark in Adobe Acrobat 9 Pro.

First, optimize the page for your viewers by adjusting page viewing settings (zoom settings, etc.).

Go to Document > Add Bookmark.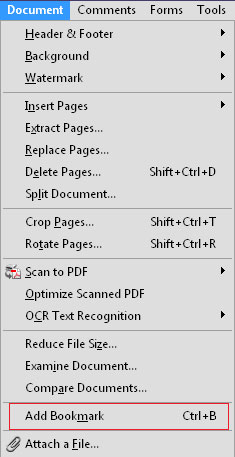 Or, click on the Options menu from the side Navigation Panel. Select New Bookmark.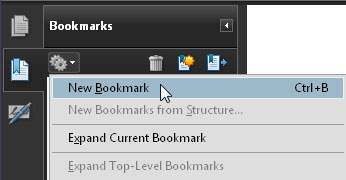 You can also begin by selecting your page, right clicking, and choosing Add Bookmark from the context menu.
In the box that reads 'Untitled', type in the bookmark's name. Be as obvious as possible when choosing a title as it will make navigation easier. Press Enter to save it.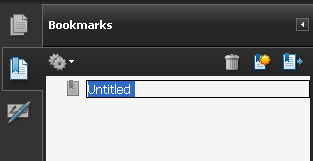 You can also create a nested bookmark hierarchy. To do this,

Highlight the bookmark you wish to move.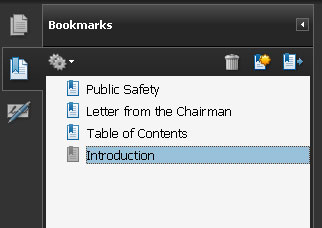 Then click and drag the bookmark's icon until the arrow indicator is under the desired bookmark heading.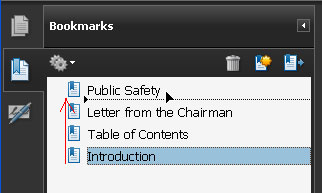 Creating a bookmark hierarchy will give your readers a well-structured view of the PDF's content.

Note that while the bookmark is moved, the pages will remain in the same position.