How to Convert PDF to ODT
Of all the alternative document processing suites to Microsoft Office, OpenOffice.org is by far one of the most popular. Its open source nature offers a more customized and flexible user experience with convenient add-ons developed by a large community of dedicated users.
Thus, it comes as no surprise that PDF files are often converted into the Writer (.odt) format as well. You can do two things to convert your PDF to OpenOffice document formats without using third party converters.
A basic way is to copy the material from your PDF file and paste it into a new Writer document.
To convert PDF to ODT, in Adobe Reader 9:
Open the PDF document you wish to convert.

Make your selection of all images and text by right-clicking and choosing Select All. Then right click again and select Copy from the drop-down menu. Once you choose copy, the selection you made will be saved to the clipboard.
Next, open a new OpenOffice Writer document. Then choose Paste from the Edit menu and save your file under a new name.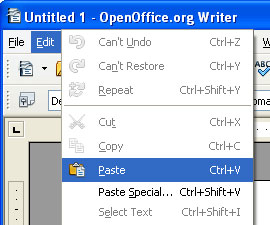 As you may know, because OpenOffice formats are a major alternative to Microsoft Office, interoperability is key. You can exploit the suite's interoperability feature and easily convert Word files to OpenOffice file formats.

In Adobe Acrobat 9 Pro, open your PDF.

Click on File>Export>Word and save your file.
Open a new Writer document. From the File menu, select Open. Among the supported file extensions, choose either Microsoft Word 97/2000/XP (*.doc) or Microsoft Word 2007 XML (*.docx;*.docm), depending on your format. Click on Open.
Once opened re-save the file as an ODF Text Document (*.odt) format.