How to Convert PDF to Publisher File
Microsoft Publisher is a flexible program with a wide variety of templates for creating different types of documents. It lets you create professional looking business cards, newsletters, posters, brochures, flyers, postcards, and calendars—and all for free.
Because this program is designed to create professional publications, it is only natural to use the PDF format when working with Microsoft Publisher as well.
When making edits to your publication, converting PDF to Publisher file is the first solution to come to mind. However, a converter for turning PDF to Publisher can be costly and hard to find.
The simplest trick to convert your PDF to Publisher file without the aid of a converter is to first convert your PDF file into Microsoft Word format and then convert that file into Microsoft Publisher by using the import tool.
In Adobe Acrobat 9 Pro:
Open or download the PDF file you wish to convert. Select Export from the File menu and choose Word Document.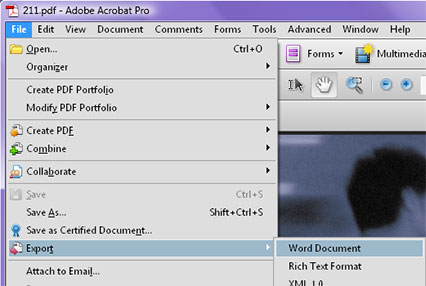 Choose where to save your file. Be sure to remember the name and location so you can locate it for the next step.

Import your Microsoft Word file in Microsoft Publisher 2007.

Start the Microsoft Publisher program. In the Publication Types list, click Import Word Documents.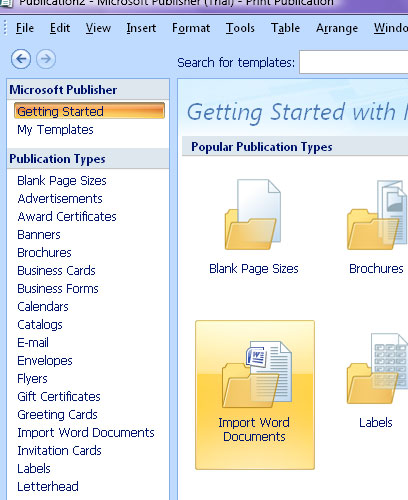 Choose your publication design, and then click Create.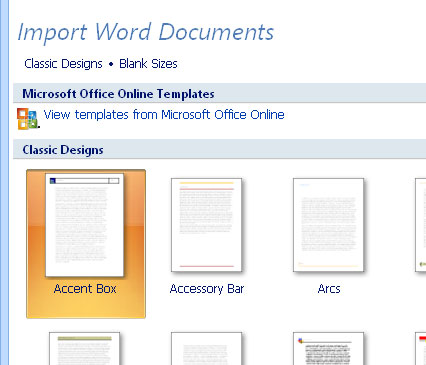 In the Import Word Document dialog box, open the file that you want to import, and then click OK. Browse and locate the Word file you saved in the previous step and select OK.

Once you import your content, you can edit it in any way you need, whether it be editing text, rearranging pages, or modifying layout.