FreePDF Creator Help Guide
Table of Contents
---
---
Downloading and InstallingFreePDF Creator
Click on the DOWNLOAD FREE button and save theFreePDF Creator installer on the local machine.

Run the Installer to install FreePDF Creator.
Printing PDF
Open any Windows file that can be printed.
Choose to print it and select FreePDF Creator from the list of available printers.

Print the file.This opens the Customize PDF dialog, in which you can change the default and saved settings for making PDFs (To learn about changing the software's settings, see Customizing FreePDF Creator).
Click Create PDF. The PDF will be created based on the previously saved settings.

Customizing FreePDF Creator
FreePDF Creator allows you to adjust the following settingsaccording to your individual preferences and needs:output quality, document properties, security. It also offers various PDF editing options.
Customize Default Settings
To adjust default settings:
Go to the Start Menu, choose Customize FreePDF Creator.

Adjust the desired settings.
Click Save Settings. Once you do that, these become the default settings for printing PDFs. All the files will be printed based on these settings. You can later change specific settings or all the default settings for printing individual files.
Setting Output Quality
To change PDF output quality, click on the arrow next to the Change button.

Choose one of four PDF print quality settings:

Web Quality creates the best output for emailing, sending or uploadingPDFs viathe Internet.This optionmakes the PDFs small enough for electronic exchange and use online.
Print Quality is the most appropriate option for making printouts and printed copies of documents, presentations and other materials.
Prepress Quality producesthe highest quality PDFs, ready for publishing. Use it whenpreparing brochures, books, manuscripts, reports, booklets, flyers and other works for professional publishing.
Custom allows you to customize your PDF output quality according to your personal preferences.
Choosing the last option opens the Custom Settings window, which has four tabs - General, Color, Grayscale, Monochrome.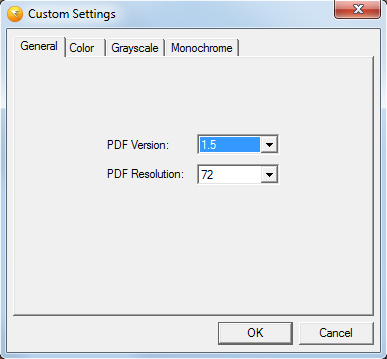 Choose the General tab to change the PDF version and resolution. It is possible to choose PDF versions 1.2 – 1.6. The available options for PDF resolutions are: 72, 144, 288, 300, 600, and 1200ppi.
The Color, Grayscale and Monochrome tabs allow you to set downsampling and compression for each of these PDF printing options. The default option for Downsampling is Average, but it can be set to subsample, bicubic, or off. Compression options include the default Auto, LZW, JPG, and ZIP. To learn more about printing black and white PDFs with FreePDF Creator, read this blog post.
To save custom settings, click the OK button and then click Save Settings.
Document Properties
To add metadata to the PDF that you create, choose Document Settings and click on the Change button.
Add the document Title, Author, Subject and Keywords.

Check the Always use this setting option if you want to add the same metadata to all PDF documents you will be creating withFreePDF Creator.
To remove all existing metadata, click the Clear All button.
Click OK to save the document properties and close the dialog.
Security
To learn about creating secure PDFs with FreePDF Creator, read How to Create Secure PDFs free. It is a step-by-step guide to printing password protected documents. FreePDF Creator enables users to create PDFs with 128-bit encryption.
PDF Editing Options
Clicking the Change button next to PDF Editing options brings about the following dialog: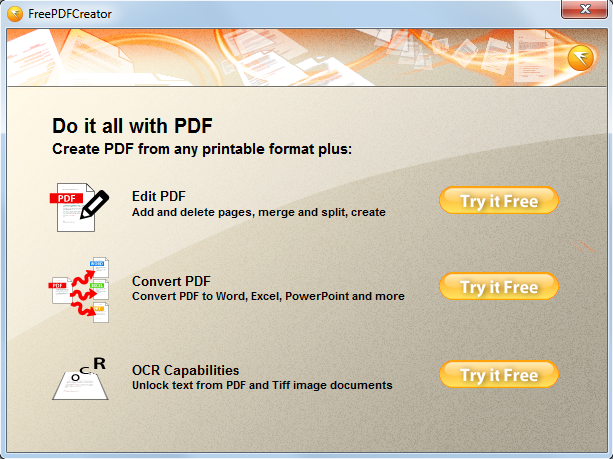 Clicking the Try Free button takes you to our PDF Converter Elite product page. PDF Converter Elite is premium software for converting and editing PDF files. Besides creating PDFs, it allows users to:
Modify PDFs by adding and deleting pages, merging and splitting, bookmarking, resizing, rotating, cropping and more
Convert PDFs to Word, Excel, PowerPoint, Publisher, HTML and most popular image formats
Handling OCR by unlocking text from scanned documents.
Basically, PDF Converter Elite is a software solution for total PDF management. You are free to download PDF Converter Elite 3 and use it for 14 days with no cost and no need to submit credit card information.
Changing the Save PDF file Location
The default location for saving printed PDFs is the My Documents folder on your computer.
To save the PDF file you are about to print to another location on your hard disk, click the button next to the Save as option and set another location.
Click the Create PDF button to generate PDF.
Setting post process
FreePDF Creator installs itself with the predefined Open PDF setting, which immediately opens the PDF you have made upon creation.
To change this setting, click on the arrow next to Post process and choose one of the available post printing options:

Email PDF opensa new message in your default email client with the created PDF already attached and the subject "PDF file from FreePDF Creator." Add email recipient(s) and send the message.
Do Nothing creates and saves the file in the designated location without opening it or performing any other actions with the newly created PDF.


Click Create PDF if you are changing saved or default post printing actions for an individual PDF file that you are about to create.
Getting Help
FreePDF Creator is not only fully free software for printing PDFs, but it also comes with free support.
Click on the Help button. This opens the page onPDFConverter.com's website with email addresses for customer and technical support.
Choose the appropriate email address and email your question or help request. Our support professional will get back to you ASAP.
You can also give us a phone call during business hours from Monday to Friday (9am to 6pm PST).