PDF Converter Elite 5: PDF to Microsoft Office Converter
The PDF Converter Elite software solution was specifically tailored for Microsoft Office users. Its main purpose is to offer the capabilities of Adobe Acrobat, but at a considerably lower price. The all-powerful Adobe Acrobat, which is the PDF industry standard, usually is out of reach financially for small and medium-sized businesses, and especially for individual users like independent business consultants, educators or personal users. PDFConverter.com has recognized this need and developed a solution that easily changes PDF into the widely used Microsoft Office file formats – Word, Excel, PowerPoint and Publisher.
PDF Converter Elite also includes myriad of other features that make it a comprehensive solution for complete PDF management. Microsoft Office users can use PDF Converter Elite to:
PDF Converter Elite is an affordable, all-in one PDF solution for bridging the gap between PDF and Microsoft Office applications.
Why use PDF Converter Software?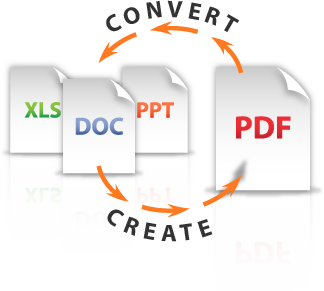 Microsoft Office is probably the best known and most used productivity suite today. It offers powerful features and benefits for creating and editing business and personal documents.
On the other hand, PDF is the most used file format for storing, archiving and sending all sorts of documents: Excel spreadsheets, PowerPoint presentations, simple and intricate Word documents or rich publications created with Microsoft Publisher. Most times, once a user has created a document and is fully satisfied with it, he or she will convert it to PDF as a way of saving it in its original form. The list of PDF benefits and advantages over other file formats is pretty long.
But more often than not, documents need to be improved or revised. Sometimes original Microsoft Office documents get lost or simply deleted, and you end up with only a PDF version of it. PDFs can be modified to a certain degree, for example, you can add bookmarks, resize, crop, or stamp them, provided that you have the right PDF editing tool. It is even possible to insert and delete PDF pages or join multiple PDF files into one. But if you need to change the actual information and make other significant changes, you will need the document in its source – a highly editable Microsoft Office format.
Basically, you need to turn a PDF file into a suitable Microsoft Office application. For example, if you need to adapt your business budget originally created in Microsoft Excel (maybe you even initially used some Microsoft Excel templates for budget management), you will need to convert the PDF to an Excel spreadsheet. In order to do that, you need PDF conversion software.
PDF Converter Elite is exactly that. It bridges the gap between the PDF and Microsoft Office in a way that allows users to transform mostly unalterable PDFs into highly adaptable Microsoft Excel, Word, PowerPoint or Publisher files.
Customer And Technical Support
A full license of PDF Converter Elite 5 is available for US $99.95. Customer and Technical Support is included free of charge and is available by telephone and email – Monday to Friday (9am to 6pm PST):
Microsoft and the Office logo are trademarks or registered trademarks of Microsoft Corporation in the United States and/or other countries.