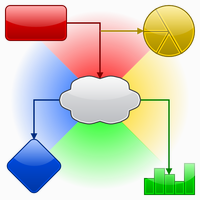 If you are a person who is very visual in nature, or your job demands that you have to create visual representations of your ideas, thankfully, there are many great free online tools that can help you get your point across.
No matter if you are an accountant and need an easy way to present information to your client, or a web developer sorting out the details of your company's new site, or even a teacher helping your young students learn basic math with colorful visuals, these types of sites can always come in handy.
So whether you are looking to make a flowchart, pie chart, line graph or do some semantic mapping – whatever the case may be — there are free online tools available to meet all of your diagramming needs.
This is one of the best and easiest to use online diagramming sites you'll find. The site works in a way in which it intelligently adapts to the type of graph or chart that you start drawing, and intuitively helps you along the way. The website really works with the user and allows you to draw anything you want. Like most of the best online diagramming sites, Creately enables you to invite other people, coworkers for example, into your project and collaborate on it with you.
This site gets its name from the fact that it is the best online tool to use if you are looking to do mockups and wire frames. People who want to quickly and easily draw mockups of their future websites or applications to share with coworkers and collaborators love to use this site.
This site has one of the best designs of any of the diagramming sites. It is so simple and effective that it feels as if you are using a desktop application, even though you are doing everything online through the site's ingeniously developed Flash applications. This makes the site accessible from anywhere, which is one of the main reasons that so many people use it for their diagramming needs.
This site's whole mission is to make the creation and sharing of visual information on the Internet a much faster and simpler process. Chartle makes it easy to create a wide variety of graphs, charts and maps.
Another very user-friendly tool that will let you draw anything you like – from site maps and network charts, to line graphs and wire frames. It is another service in which you can easily collaborate with multiple users to work on one diagram or drawing at the same time, making it excellent to use as a brainstorming tool.
When you open this tool you will have a feeling that you use a desktop program thanks to its user interface. On the left side of the screen, you can choose the shape of the diagram, search shapes, even drag elements. The tool has multiple options to export or export the files anywhere or to publish them on various sites.
The advantages of this site is that the tools are very fast and that they work just as well in whatever web browser you are using, no matter if you are on a PC or Mac. It also allows you to work simultaneously on projects with colleagues.
One of the best sites out there if you are looking to create 2D and 3D charts and graphs. It also allows you to import Microsoft Excel worksheets and convert the information into graphs and charts.
A very simple to use site that offers many convenient templates of various types of graphs and charts to get you started. It also allows you to upload information from external spreadsheet documents.
This site allows you to use the charts that you create on your external websites and blogs. It is a very fast service and offers many options in terms of presentation.