Halloween is just around the corner and you haven't even started your preparations? That's very unlikely, since there are pumpkins, spiders, black cats and "boo's" in all forms, colors and shapes scaring us from almost every window shop, and reminding us that it's time to get ready for what's probably the most entertaining holiday in a year. However, if due to a hectic schedule you really are behind with the Halloween warm-up, and don't really know where to start your search for original Halloween costumes, home decorations, gifts and food, don't get scared yet!
Thinking about you, we went straight to one of the best sources of creative ideas on the Web – Pinterest, and did some research for you. We hope our collection of 13 inspirational pinboards with all things Halloween will come handy. Everything you need for this year's horrendously fun October 31 is waiting for you in there!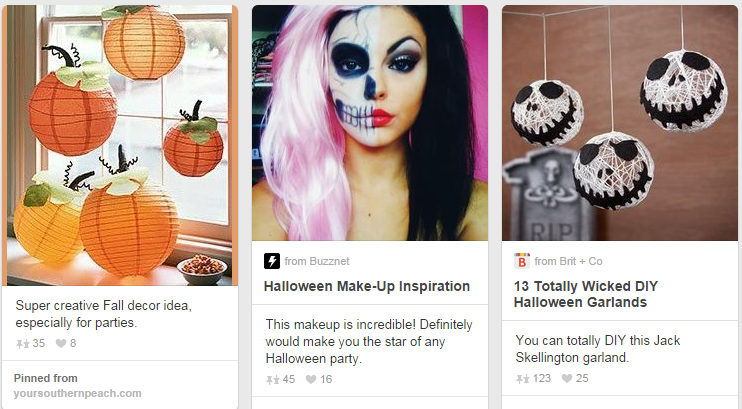 A fabulous source of Halloween costumes inspirations and ideas! Ranging from toddlers, infants, teenagers and grownups, this board has something for every taste imaginable.
2) Halloween Stuff  abounds with all sorts of pins, but their food pins will probably interest you the most. From meatball mummies and spooky smile cookies, to green witch fingers and graveyard pudding cups, this board has everything you need for a hideous but yummy Halloween dinner.
3) Halloween Craft Ideas is excellent for fun family projects as it is geared more towards crafts and ideas for kids and made by kids.
4) Halloween Costume Ideas is all about "creative Halloween costumes for kids and adults, groups and individuals, couples and families!" Searching through this pinboard, you'll certainly come up with an original idea for a costume.
5) Halloween Food, Decor, Crafts & More: Brace yourself for a wild ride through incredible crafts, decor and food ideas. It might be difficult to choose only a few, because many of them look so good!
6) Hallloween Ideas, Decorations, Costumes is another pinboard oriented towards Halloween costumes, with very useful photos of close-ups.
7) Halloween 
From makeup tutorials, creepy-looking cooking recipes, costuming your pet into a real Halloween monster and everything in between, follow this board immediately.
8) Halloween party, gifts, snacks, cards and more  is a very big collection of Halloween ideas for parties, gifts, trick-or-treating, printables, and decorations.
9) Cool and Scary Halloween ideas is packed with ideas for scary Halloween costumes, masks and home decor, but also particularly nice tips for decorating your garden and front yard.
10) Halloween Make Up Ideas  is a specialized collection of "face" ideas. If you're looking for mask and makeup tips, you'll probably find what you're looking for here.
11) Halloween Masks and Make-up simply overflows with ideas for make-up and masks.
12) Halloween by Baby Center  is a rich treasure trove of ideas for parents, and especially for baby costumes.
13) Halloween Treats, favor bags, and more DIY: And finally, the lucky number 13 goes to this pinboard that will make it difficult to move away from the screen and actually start with preparations!
Hopefully you'll find something spookily original, or originally spooky, among the amazing Halloween photos and suggestions you've seen. If you fall in love with the photos of one or more boards so much that you want to keep them as they are, learn how to convert entire boards into PDF albums!
This way you'll be able to view your favorite Halloween pictures, tips and DIYs even when you are not online, plus you'll actually have a nice album which you can even use as a gift to your friends and family.
Trick or Treat!