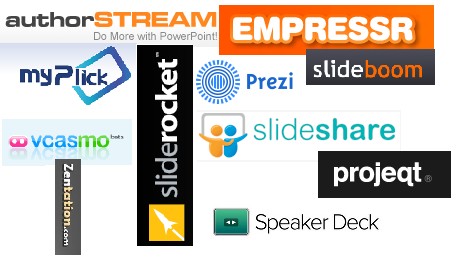 SlideShare is the world's largest and leading online community for hosting, discovering and sharing presentations. It is safe to say that SlideShare has become a must-have tool in every presenter's toolbox today. Business professionals, teachers, public speakers and students alike often use it to find inspiration and ideas, learn or present their own work here. However, SlideShare is not the only website that specializes in hosting and sharing presentations. There are other great, high-quality sites, SlideShare alternatives that let you upload, host and create or discover great presentations and slideshows shared by other presenters.
1. AuthorStream –  a free platform for uploading, hosting and sharing PowerPoint presentations online. It has a pretty large user base and helps you discover great presentations in various categories. Some of the categories are business and finance, education, product manuals, science, technology, and many others.
2. Moovly  – With Moovly you can create, change and freely share your videos with no hustle. The Moovly library includes thousands of videos and images you can download without any limit. It's one of the best online video animation software you can find online.
3. Slide Online lets you freely upload, view and share your PPT and PDF presentations with everyone. As an online-based platform, you can share everything directly to social networks such as Facebook and  Google+ or embed code to your WordPress blog. A perfect tool for business, sales, marketing or educational presentations.
4. PowerShow – yet another community for hosting, sharing and viewing PowerPoint presentations online. It converts uploaded PowerPoint slides to multimedia Flash slideshows while preserving all types of embedded effects, photos and live links to YouTube videos. Everyone can publicly share and view personal and educational presentations for free. PowerShow additionally allows its users to earn money with their presentations by marking them as "pay to view" and setting a price for viewing them.
5. Prezi – a virtual whiteboard for transforming presentations into compelling stories and visually flowing lessons. Prezi is perfect for creating impressive resumes (called Presumes) and portfolios that will undoubtedly help opportunity and job seekers to stand out from the crowd.
6. Projeqt – create and share dynamic presentations from scratch or by converting old static slides. Simply upload PowerPoint, PDF or multiple image files at once and create a dynamic and portable online Projeqt with no coding required. Created Projeqts can be embedded and shared anywhere.
7. Reel – present your ideas online and get feedback. The app allows you to upload your slides as documents in the PDF, PPT or DOC file formats or as images (JPG, PNG, GIF), describe them, and share.
How Do You Like These SlideShare Alternatives so far?
8. SlideBoom – an easy to use online slide hosting service. This service allows you to upload, convert PowerPoint presentations and slideshows to Flash and share them online. You can also search for presentations in more than 30 categories and 100 different languages.
9. SlideRocket – an online tool for creating, sharing and managing presentations. It allows you to import your existing PowerPoint presentations or create SlideRockets from scratch.
10. SlideServe – one more way to take your PowerPoint presentations online and share them privately or publicly with others. You can email presentations hosted on SlideServe or embed them to blogs and social networking sites.
11. Emaze is an online presentation tool for professionals. It is not free but affordable, $9 per month. For that price you can make your private presentation and download it so you can have an offline version. You can also download it as a PDF or a video.
12. SpeakerDeck – upload your PDF slides and turn them into online presentations. Once uploaded to the site, presentations can be described, added to an appropriate category, and shared with the rest of the world. You can share a link to your presentation, embed it on a website or blog, or simply share with Facebook friends and Twitter followers.
13. VCASMO – a multimedia presentation solution for business presentations, academic teaching, seminars and training, photo-video slideshows and more.
14. Zentation –  create online presentations by combining video and slides. It is a handy solution for creating webcasts, webinars, training, e-learning and other virtual events. You can publicly share Zentations that you create and browse other shared presentations.