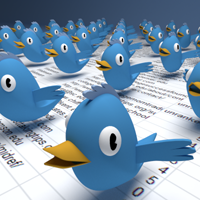 Social sites like Facebook, Twitter and LinkedIn have become prevalent in our personal and professional lives. When we want to reconnect with long lost childhood friends or follow world and business news as it happens, or find possible partners and suppliers for our business, we simply log into our account on the appropriate social network.
One great feature of social sites is that they also offer awesome learning opportunities for developing the users' professional skills. Ongoing learning and skill advancement is simply a must in today's business world, especially when it comes to improving one's computer skills. Most office productivity applications are frequently updated with additional, more powerful features and capabilities. But to be able to take advantage of these improvements, modern office worker needs to be in learning mode constantly.
One of the most advanced and popular office applications today is certainly Microsoft's spreadsheet program, Excel. True MS Excel masters are always in demand. There are many great MS Excel tutorials and manuals, many of them are even offered for free on the Internet. But, if you are not a fan of thick books or you are simply a Twitter addict, why not use that site to learn Excel skills and knowledge?
Here is a list of some great Twitter users who tweet beginner and power user MS Excel tips and tricks:
@Jon_Peltier is an MS Excel programmer and chart master. Besides tweeting excellent MS Excel tips and replying to questions, he also offers Excel tutorials and add-ins on his website.
@TomUrtis is a Microsoft Excel MVP. Tom shares tips, tricks and advice for Excel users whether they need tips for personal Excel projects or large-scale business-related Excel advice.
@howtoexcelatexcel aims to help you excel at Excel.
@chrispoppinga is the owner of Vortarus Technologies that offers Excel add-ins for various risk analysis.
@XLCalibre strives to help HR Professionals with MS Excel.
@Excelmadeasy is trying to create a virtual school where one can learn almost anything for free through simple and easy to understand videos.
@excelzoom  will prove to you that Microsoft Excel is more than just a calculator.
@pimmychart is focused on chart design in MS Excel. Follow this handle if you want to enhance your charts and spruce up data visualization skills.
@rogerfisher  promotes Excel as an easy-to-use and useful tool. His tweets link his followers to very diverse and nifty MS Excel tips.
@MS_Office_  is a Microsoft Office guru and her tweets will improve not only your Excel, but Word, PowerPoint, Outlook and One Note skills as well.
@MrExcel  writes books and does seminars about Microsoft Excel, but he also shares his vast knowledge in the twitterverse.
@r1c1 helps you learn Excel and charting.
@spreadsheetzone doesn't tweet tips, tricks and hacks, but being a huge depository of professionally designed free Excel templates in hundreds of categories, they regularly share and update tweeters about available templates.
@thecodecagecomprovides free MS Office help for all applications.
@UnclSpreadsheet tweets helpful advice and claims in his bio that he is "making the world a better place, one spreadsheet at a time." So, check out his tweets to see for yourself.
@exceleverest is an interactive, action-packed Microsoft Excel tutorial designed to make you an Excel Jedi as quickly and efficiently as possible.
These are not the only great tweeters who can help you master MS Excel, there are many more experts who tweet helpful MS Excel advice and tricks. As a matter of fact, we curate a Twitter list of reputed Excel geeks. Feel free to follow it and suggest users that you think should be added to it. And if you think that you deserve to be on the list, don't be shy – let us know on Twitter! Our Twitter handle is @PDFElite.