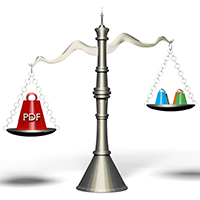 Because of the many benefits that the format offers, PDF has become the publishing standard for most companies and businesses worldwide, particularly in the last decade and half.
Turning your documents into PDFs makes them immediately more portable, smaller, and generally easier to use. The versatility of the PDF is another aspect that makes it so perfect for business documents, among many other features that make it the most usable and suitable format for all types of business presentations.
The PDF format allows you a faster delivery of your documents in a versatile and cost-effective manner, and it provides the person who are sending it to with a document that is easy to view, navigate, store, print and share.
Here are some of the most important and obvious advantages of the PDF format in the business world.