Surfing the Web nowadays helps you find tons of useful, informative, educational or entertaining content. If you are researching a certain topic, you will undoubtedly find many great and helpful web articles, texts and posts on the subject very quickly. Actually, most times you will find yourself overwhelmed with all this content from various sources and discover that you stumbled on so much material that you can create a regular book from it for reading or studying over a longer span of time. The good news is that it is actually possible! Here is a tip on how to make an eBook from web articles with our premium and professional software for PDF management, PDF Converter Elite .
1) Open the article in your preferred web browser and choose to print it. For example, in Google Chrome right click on the page and choose Print from the option menu.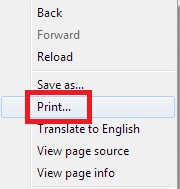 2) Choose PDF Converter Elite from the list of installed printers on your computer and click the Print button.