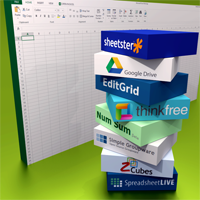 Office Web Apps are a great solution for business professionals and individuals who work with Office documents and often need to share them with other people – colleagues, bosses, professors or clients.
MS Excel Web App is a very popular Office Web Apps feature that lets users create, share, edit and collaborate on spreadsheets online. This option allows collaboration in real time where users can see who is working on the same spreadsheet and what they are inputting at the moment.
The major benefit of this web-based app is that it saves users' time and simplifies the process of sharing. Instead of sending an attached document vie email to a third party and waiting to receive a corrected version, people can instantly share documents online and work on them simultaneously.
However, not everyone uses Microsoft Suite and Office Web Apps. Fortunately, Internet offers a variety of excellent free Excel alternatives and today we'll cover eight of them that come highly recommended by tech experts. Very importantly, all of these apps are free.
Free Excel Spreadsheet Tools
1) Google Spreadsheets
Google Spreadsheets is probably the most popular and frequently used service for creating and sharing spreadsheets online. In order to use it, you need to create a free Google account (if you don't already have it) which will only take a few minutes of your time, after which you are ready to start creating, sharing and collaborating on spreadsheets, charts, graphs, pivot table reports, forms and much more. Continue reading >>