An image is worth a thousand words – you have probably heard this at least a thousand times. But the truth is that it really is so. No matter if you have a website or blog, or prepare materials and presentations for school, college, students, business, or for any other purpose, your documents and presentations simply look better and more professional with compelling, high quality images and graphics. Simply put – people like photos. Knowing this, we compiled a list of useful and free web applications that can help you to quickly create, modify and transform your images into dazzling works of art which will impress your teachers, students, colleagues, business associates, bosses, or simply amuse friends on social networks.
Create images, slideshows, photo collages, photo books and more
It's never been easier to be an artist than today when there are tons of available online applications that can help you to create and present your photos, graphics and other imagery in creative and electrifying ways.
1. Photovisi is an easy to use and free online photo collage maker. First you pick among the many designs, add your photos, and customize the collage by dragging around items. Finished photo collages can be printed or downloaded.
2. Picture2Life, as its name implies, brings your pics to life by allowing you to turn them into collages and animated gifs. Some of the coolest features of the app include the ability to create collages using one of 20 available different countries as the basis of the collage. It is an awesome way to present your pictures from a recent trip to that country, for example. The best part is that Picture2Life works handsomely with photo sharing, hosting and blogging websites such as Twitter, Flickr, Facebook, WordPress, Blogger, ImageShack, and many more.
3. Photo Collage is another great web application that you can use to create online photo collages, photo animations and photo slideshows.
4. Picaboo bring smiles to the faces of your loved ones by allowing you to easily transform your digital photos into photo books, cards, calendars, gift certificates, yearbooks, prints and more. If you prefer desktop tools, a downloadable version of Picaboo is available.
5. Cool Text is a free online graphics generator. You can use it to quickly create a logo for your website even if you have no web design skills at all. Just choose one of available logo styles and fill out a simple form to design your logo: insert the desired logo text, choose the font, text size, color, and one of available image file formats – png and gif, with or without transparency, jpg, psd or xcf. Once you are satisfied with how your logo looks, click on the button to render it and that`s it.
6. Hohli Online Charts Builder is a simple web tool for making charts. It is based on the Google charts API and is easy to use: select your chart type, add data, pick the size, colors, add a title and preview your chart. Tweak it until you`re happy with it.
7. Free Clipart Library is a perfect place where you can find free vector illustrations. There are more than two thousands of illustrations you can use to create images. The tool is mostly used for creating logos or any kind of business graphics.
8. Funnywow is a website to create funny pictures online and add funny photo effects to your images.
9. Funny.Pho.to allows you to create photo collages from your photos. Apply funny photo effects, create realistic photo montages and add cute frames to your photos. You can also easily create e-cards by adding text to the picture.
10. Fun Photo Box is another tool for creating funny pictures online. Simply upload your photos and apply hundreds of professionally designed photo effects. It also allows you to create romantic greeting cards with personal photos or animations. If you would like a makeover, go ahead and put your face in a hole and become a superstar.
Online Photo Editors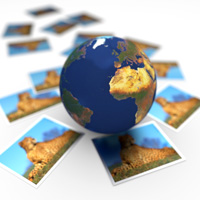 Making a perfect snapshot is difficult if you are not a professional photographer and don't have professional equipment. Fortunately, there are software solutions like Adobe Photoshop which lets you significantly improve your photos. However, Photoshop is not cheap and if you don't use it to its full potential, getting it is hardly a justifiable purchase. But there are pretty powerful and free online solutions which can help you to enhance your images and photos and dazzle everyone with them without having to install anything on your personal computer.
11. Pixlr is a powerful free online image and photo editor. You can use it to create an image online from scratch or to open and edit images from your computer, URL or library like Pixlr, Facebook, or any other library. It is a great tool for everyone who wants to manage their images in the browser. Registration is not required for using this editor.
12. Fotor is a free online photo editor offering some really neat features like the ability to create lifelike photos made with HDR, beauty retouching (think: your free online Photoshop!), creatives for holiday photo cards, and so on. As a matter of fact, they are constantly adding new features and goodies.
13. LunaPic is a handy editor of pictures for Facebook, Tumblr and Twitter. Users can upload images from their computer or open from the web with a URL of the image. As a matter of fact, you can open images from your account on Facebook, Flickr, Picasa and Photobucket. Available editing options include drawing directly on the image, adding border and text to image, rotating, resizing or cropping images, and more.
14. Pixenate is a fast and easy photo editor which lets you enhance your images right from the web. Pixenate provides tools to improve your photos in multiple ways. You can quickly normalize photos by improving the color balance or smoothing facial lines, fill light, whiten teeth, change the brightness, saturation and hue of your photos. Additionally, you can add multiple fun effects to your photos like text, speech bubbles, rounded corners and even sprinkle some snowflakes. You can also surround your photos with a soft dark halo, create a heart-shaped cutout of your sweetheart, make your photos look like Andy Warhol-like pop-up posters or artistic oil paintings. Once you`re satisfied with your image, you can save it to your computer or upload it to Flickr.
15. FotoFlexer is another great and very advanced online image editor that allows you to add stunning photo effects to your pics. Users can edit pictures from their computers or from Facebook, Picasa, Flickr SmugMug, Phanfare, Photobucket and other photo sharing sites.
16. Free Online Photo Editor also enables its users to enhance their photos in their browsers. Edited photos can be saved online, downloaded or printed.
17. Phixr is one more easy-to-use and free online photo editor which directly supports Facebook, Twitter, Flickr and many more.
18. Picmod is a picture editing and sharing website.
19. BeFunky will help you to transform your pictures into exceptional artwork in just a few clicks. The site offers tons of effects and features that you can use to make your pictures look like oil paintings, pop art or vintage Polaroids.
20. Glitter Photo is a nifty online tool that allows you to add glitter, text and several effects to your photos, all for free. The most notable effects include stamps, bubbles, animations, trims and backgrounds. Not only that, but you can also resize and crop uploaded photos.
21. PicFont lets you simply and quickly insert text into pictures, add comments and shape them online.
22. ImageChef allows you to drop your photos into fun frames, create a cover image for your Facebook Timeline, create word mosaics, and sketchpads.
Resize images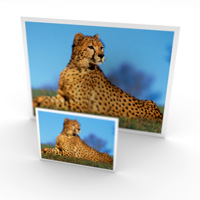 Sometimes when you want to share your beautiful images with others by emailing or sharing them online, you may experience problems due to their size. They are simply too big sometimes. To ensure smooth uploading and emailing, you will need to shrink them. There are a number of handy and free online image and photo resizers that can help you to fix the size of your pics in no time at all.
23. Picresize lets you easily resize and crop your images online. You can also use the tool to add special effects to your images: rotate, sharpen, grayscale. There are two resize modes: a normal and one for quick fixes. The best part is that the tool allows you to batch resize and crop your images. It is a very handy feature when you need to change the size of multiple pictures quickly.
24. Resize Your Image allows you to resize your image or photo online in three simple steps: upload, use buttons and arrows to set the desired size, resize and download it.
25. Resizr is another free online image resizer and cropper. It has many useful features, but is easy to use. Resizr will help you to convert, crop, rotate or edit your image quickly.
Online Image Converters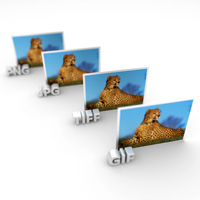 Online format converters can be extremely convenient utilities. They let you convert between formats without having to install any software on your local machine. Let us take a look at some of the best free tools for changing image file formats.
26. Photo2Text allows users to convert an image to a text file of the original image.
27. PDF to JPG is an online PDF conversion tool that converts PDF files to JPG. You can upload any PDF from your computer or the cloud and have it quickly converted into JPG. It is totally free and secure, you can use it without email address and registration.
28. Text-Image.com is a free web-based image to HTML converter.
29. Picascii offers an easy way to create ascii art. The tool converts a picture into ASCII TEXT and HTML. It supports gif, jpeg and png image formats.
30. Share As Image allows you to highlight text anywhere on the web and quickly transform it into an image. It is especially useful for creating quoted images for sharing on Pinterest, Facebook and Twitter.
31. Map2Pic is an online application that enables you to take screenshots from Google maps and save them as image files. Snapshots can be saved in png or jpg image formats.
32. Convert Hub is a free online graphic and image conversion tool. You can use this online utility to convert between multiple image file formats like ico, png, gif, jpg, bmp, ps, eps, tiff, and more. It is a great tool to make favicon.ico as well, which is the shortcut icon for your blog or site.
33. Image to Favicon.ico is a free online tool to convert an image, logo or photo into *.ICO icon format. Supported input image formats are jpg, gif, png, tiff and bmp.