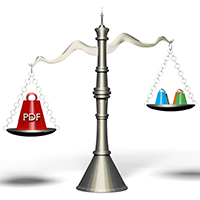 Because of the many benefits that the format offers, PDF has become the publishing standard for most companies and businesses worldwide, particularly in the last decade and half.
Turning your documents into PDFs makes them immediately more portable, smaller, and generally easier to use. The versatility of the PDF is another aspect that makes it so perfect for business documents, among many other features that make it the most usable and suitable format for all types of business presentations.
The PDF format allows you a faster delivery of your documents in a versatile and cost-effective manner, and it provides the person who are sending it to with a document that is easy to view, navigate, store, print and share.
Here are some of the most important and obvious advantages of the PDF format in the business world.
1. It's free
First of all, viewing a PDF does not require you to buy any special type of program. There is a number of free PDF readers available for download. PDF documents act as color, electronic fax machines in a way, but they are also much faster and provide documents in much higher quality as well. Thanks to this format, documents can be distributed worldwide for practically no cost and can then be printed in any quantity anywhere in the world.
2. It's uniform
Also, PDF documents always look the same for everyone. There is never any re-pagination or missing font issues to deal with, as is the case with most word processing documents. For legal reasons, business documents and agreements usually must look exactly the same for everyone viewing them, especially when dealing with application forms, tax returns, tender documents, invoices and things of that nature. PDFs ensure that the files sent to clients can be viewed across different computers without any change in the look and feel of the original document. PDF documents are viewable by any computer platforms, including Apple Macintosh, Microsoft Windows, or any UNIX operating system.
3. It's versatile
PDFs can be made searchable, which makes them very easy to navigate. If you receive a long business document, you will be able to use the search function and find what you are looking for easily and quickly by simply searching for a keyword or phrase. The PDF document can also be magnified hundreds of times without losing any of its quality. This is especially important when looking at visual aids like graphs and charts that might have a lot of small details, but it also allows you to magnify things written in fine print that you might miss otherwise. It is also the ideal format for storing and archiving documents. It is a self-contained and highly compressed medium that effectively manages bitmaps, vectors and text, which makes the PDF the perfect format from which to base archiving and record keeping.
4. It's compact
The small file size of a PDF enables it to be easily emailed and shared. The PDF standard masters what other standards have not been able to do in compression and drastically reduces document size while preserving the document quality. Using PDFs significantly reduces costly bandwidth and storage issues. Converting graphics, spreadsheets and word processor documents to a PDF reduces document size significantly, which adds up to real savings in expensive email server storage and bandwidth congestion. It also means significant time being saved in retrieving emails from the server.
5. It's secure
Documents such as proposals and legal contracts are all subject to manipulation and can have significant consequences, but fortunately, when using documents converted into PDF, they are at a significantly lower risk of being tampered with. PDFs offer 40-bit and 128-bit encryption, as well as password restricted viewing, copying, and even printing. It also allows the application of watermarking to enable users to "digitally emboss" their documents with their a unique watermark of their own.