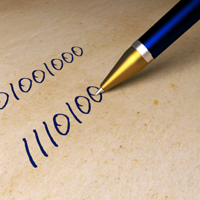 In today's digital age more and more business transactions are taking place online. It seems that now more than ever, almost all documents are sent and received via the Internet and physical paper is being used less and less. Say you want to hire a graphic designer working overseas to create your website. How will you get this person to sign a contract when hiring him or her? How to make an electronic signature?
Instead of sending your new employee paperwork through the post office, why not look into a way to get the signature on the contract digitally? It is now easier than ever to learn how to make an electronic signature for signing online and computer-based documents. It is a fairly simple process. You will need a piece of paper, your favorite pen and a scanner.
1. The first thing to do is to simply write your signature on a piece of paper.
2. Scan it with your scanner.
3. Save the resulting image as one of the more commonly used graphic file formats, like GIF, PNG or JPG.

Read moreHow to Make an Electronic Signature and Sign Documents Online