According to some stats, 30 million presentations are created daily. PowerPoint is the most popular tool for creating a presentation. If you have ever created a presentation, you probably tried this amazing program. When you learn PowerPoint skills and finish your presentation, that is not the end. Another thing may come up and you need to learn it- how to change slide size in PowerPoint.
It may happen that your ppt slides look different when you use them on a projector. The version of the program you used and the projector don't have the same slide size. If you want to present slides in the best looking way, their size should correspond to the size of the screen of the projector.
How to Change Slide Size in PowerPoint 2013, 2016
You can change the size of your ppt slides before or after you put content in them. It is better to set up the size before you start, otherwise you can ruin your slide design.

To open Slide Size options and change the size, click on the Design menu and in the Customize tab, click on the Slide Size.
Widescreen (16:9) is set up by default. You can change it to standard (4:3) or make a Custom Slide Size by clicking on the so called button.
Widescreen slide (16:9) = 13.33 x 7.5 inches (33.867 x 19.05 cm)
Standard slide (4:3) =10 x 7.5 inches (25.4 x 19.05 cm)
 Make a Custom Slide Size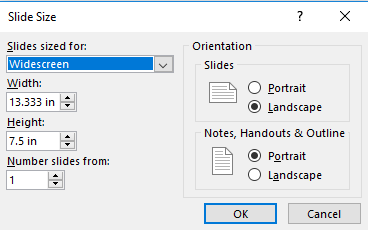 In the image above you can see what options you can choose from, when you click on Custom Slide Size. You can easily change the slide height and weight, as well as orientation of the slides. Apart from Widescreen, there are many other slides sizes depending on the purpose. Some of them are: onscreen show, letter paper, ledger paper, A3 paper, A4 etc.
When you are done with the settings just click OK. If you are not satisfied with the change either click on Undo button in the left top of the screen or simply select the default slide size. If you are very satisfied with your custom size, you can even save it as a template (theme).
To save custom designed slide settings, click on the Design menu and then on the arrow which is at the bottom of the Themes section. Now click on Save Current Theme, type the File name and then Save. Do not change the location of your file because PowerPoint has its default folder for themes and templates. So next time you open PowerPoint you will be able to use that theme.

If you want to set up that theme as default, go to Themes section again and find that newly created theme under Custom themes. Right mouse click and Save as Default Theme.

When you customize the height and the width of your slides, it may happen that the program is not able to scale your content. If that's the case, the dialog will appear asking you to choose between two options.
Maximize: If you want to have a larger slide size, choose this option. The only risk is that your content won't fit on the slide.
Ensure Fit: This is for making slide smaller and it is ok to use the option when you want to see all the content on the slide.
How to Choose the Best Slide Size
To make sure your PowerPoint presentation will look nice on a projector, check out the screen dimensions of that projector and adjust the size of your slides according to it.
Generally speaking, if you deliver a presentation on an iPad, or older monitors that have resolutions 1024×768 pixels you will probably need standard size. Also, if you want to share your presentation online via SlideShare or similar applications, standard size is a better choice again.
On the other hand, if you want to upload your presentation on YouTube, or to use newer types of projectors and devices that have new screens, widescreen size of the slide would probably be the best.
But this is only an assumption, to make sure, check the right dimensions of the device that you will use to deliver a presentation.
Can you have different page sizes in PowerPoint?
You cannot have both orientation options in the same presentation. Either landscape or portrait. But you can have two separate presentations with different orientations. With the action settings you can link those two presentations and present the slides in a way you need. Users won't realize the change of presentations, and the slide flow will be perfect.
Start by figuring out what slides look better in landscape and what slides look better in portrait orientation. Then sort them out in two separate presentations.
Open one of these presentations and select text or any object on the slide after which you want to put a slide from different presentation. Click on the Insert menu, then on the Link button. Find the presentation you need and click on Place in This Document. You can choose to place the slide as a previous or next slide, to put at the beginning, at the end.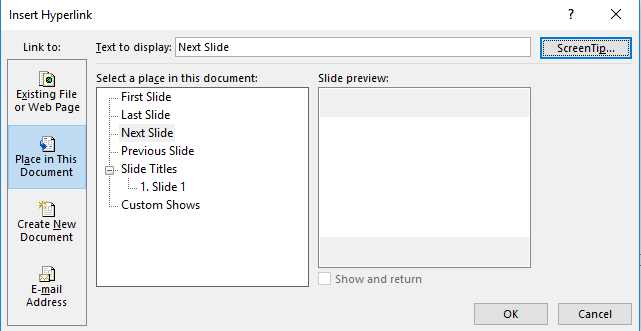 Also, you can only have one page size per presentation. But, if you want to print certain pages (slides) of your presentation in a larger size, you can select and print only those pages. Here's how to do that:
Go to File menu to open Print settings.
Choose Custom Range option instead of default Print All Slides. Type the numbers of the pages there.
Click on Full Page Slides and check if the Scale to Fit Paper option is ticked.