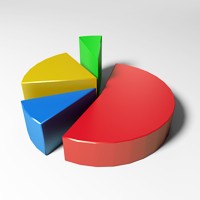 Microsoft Excel is the leader among data spreadsheet applications. Used by over half a billion people across the globe, it is regularly updated with new versions to improve its functionality. The latest version, MS Excel 2013 pushes the limits of creating and working with tables, charts, graphs and macros even further.
Obviously, MS Excel is a powerful spreadsheet editor for advanced data processing and manipulation. Millions of financial and business analysts, auditors, accountants, bookkeepers and managers around the world probably can't even imagine their world without Excel. However, one of the greatest dangers of working with data, especially if the results are to be presented to a third party, is the risk of creating very dry, dull data reports that nobody actually likes to dive into and peruse.
The key to producing successful spreadsheets is in providing useful and actionable information presented in a visually engaging and creative way. Microsoft Excel recognizes this need and enables its users to turn their data into all kinds of Excel charts, graphs and SmartArt graphics. But, creative users don't have to rely only on Excel's core features for presenting their work. For example, there are many different tools and apps for converting data into rich visualizations on the net.
Furthermore, Excel is extensible and can be enriched with all sorts of additional apps developed by independent developers. Some of these apps help Excel users to turn their data spreadsheets into a literal and interactive work of art.
New App for Creating Interactive excel Charts
One such app is recently released Infogr.am for Office. Infogr.am is one of the most popular sites for making attractive informative graphics a.k.a infographics. Infogr.am Charts for Excel 2013 is an app which enables Excel users to convert their data-rich spreadsheets into interactive Excel charts with just a few clicks right from their spreadsheet toolbar.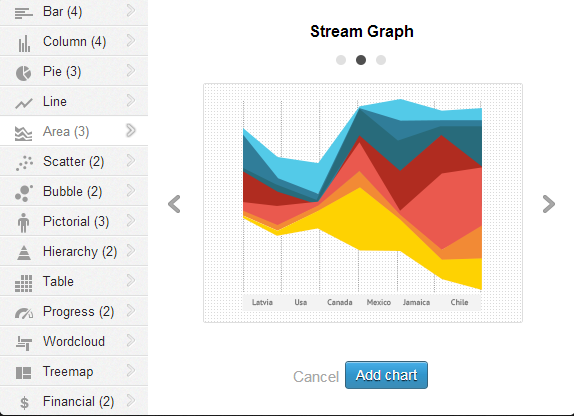 Excel users now have a chance to express their creativity with 30 new chart types that Infogr.am offers, all designed to fit complex, dry data into fun treemaps, gauge bars, word clouds, steam graphs, candlesticks, waterfalls, pyramids, etc.
The app offers other benefits for users, like auto-syncing with the cloud and saving Excel charts online for easy access and data retrieval anytime. All charts created with Infore.am charts for Excel can be easily shared on social networks and published online or embedded in a blog post or article. This app goes hand in hand with the latest trend of presenting information, research results and any data in a visually engaging way.
Innovative ways of presenting data are certainly the future, if we want to succeed in the fast-spinning world of information overload.  Translating a long, unintelligible line of numbers into colorful, interactive Excel charts is an excellent way to make information understandable and memorable – which is what all important information should be.