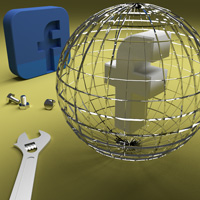 Creating a Facebook fan page for a local business, cause, hobby, interest, charity or anything else is pretty easy and even fun. Furthermore, setting up a simple Facebook fan page doesn't require lots of time, technical or other specialized skills. With over a billion users around the world, Facebook is the perfect place to present your products and services, and spread the word about what you support. Besides, creating and publishing a Facebook page is fully free for every Facebook user. As a matter of fact, one user can create and maintain multiple Facebook pages. And Facebook features make it so easy for us to spread the word and support what we like or believe in. Thanks to all these advantages, Facebook pages have become a more common way of establishing an online presence than a website. Even though having a Facebook page is great, having a professional website as well is even better and more effective. If planning and creating a website isn't an option for you right now, and you already have a Facebook fan page, then try these four apps that can turn your Facebook page into a website quickly and painlessly.
ukit
With uKit tool you can quickly turn your Facebook page into a website, free of charge. This is an easy way to expand and grow your business if you are unable to pay a lot of money for the professional looking site. This is 100% safe since Facebook allows the creation of your website as the data is copied and added to the website's template. The tools can convert basically anything, from photos, cover and logo image up to news, contact, reviews and much more. You have a free trial period and once it's over, the site will still be there, but with a banner displayed in the footer that you can remove by purchasing a price plan.
PageApp
PageApp also turns Facebook pages into websites. There are a number of design layouts to choose from for the website and it is possible to upload business logos. Premium account users have more available options for creating attractive websites, adding custom HTML, CSS, using JavaScript, choosing a home tab and photo albums, tab names, as well as mapping their own domain and more.
SITEFLY
SiteFly.co is a very neat website creator. You can create your website in less then a minute: just choose a preferred Facebook page, choose your template and that's it- your site is ready to be published. In addition to that, you also get a fully hosted and mobile responsive website.
Joopp
Joopp turns Facebook pages into mobile websites. There is a free plan with basic features like mobile website with ads and a maximum of 500 monthly page views. The premium plan offers advanced features including unlimited page views, ad-free mobile-friendly sites, automatic updating of the sites with updated information on your Facebook page (like, contact info or opening hours, etc.), mobile analytics, map integration, and more. If you are a local business with limited time and finances for creating and maintaining a mobile website, Joopp is a pretty good choice.