Did you know? Managing documents can have direct and huge impact on your productivity. Imagine you have received a document via email and you cannot open it or the formatting is lost because you and the person who sent the document don't use compatible programs. You will lose much time whole figuring out what to do and how to access the file content.
Furthermore, if you deal with paper documents, it may probably happen that you cannot find the paper document you need or your desk is covered with a pile of papers. There are many examples that prove that going paperless is a must and adopting your business to paperless method of document management, necessarily involves dealing with scanned documents. If you scan every paper document, your desk will be tidy and your paper documents will have their electronic versions. These electronic documents are usually scanned PDF files.
Why people use scanned documents?
The answer is simple. Long time ago, everything was kept on paper. When business turned to paperless technology, they couldn't start from scratch and just forget about paper documents. They had to be transferred in a digital form. The only way to do that is via scanner and the result is a scanned document. Scanned documents are usually saved in PDF format. The problem arises when you need to edit a scanned document, because not all PDF conversion tools can successfully convert scanned PDF files. If you deal with scanned PDFs, you should always use tools that have implemented OCR technology.
How to Edit Scanned PDFs?
If you need to edit a scanned PDF first you need to convert it to an editable file format such as MS Word, Excel and other. After the conversion you just need to open a converted file in one of these programs and edit its content. If you convert a PDF and the conversion result cannot be edited, that means you converted a file from one format to another, for example, from PDF to Word, but it is still unusable- the text is still locked within an image. That means, the PDF converter you use doesn't have the OCR technology. OCR stands for Optical Character Recognition, and only if a PDF converter has an integrated OCR, it can convert scanned PDFs.
How to Convert Scanned PDF to Word without Software?
There are three ways to convert a PDF to Word: online- by using PDF to Word online, offline- using desktop PDF Converter Elite program, on your mobile phone- using some of the numerous PDF mobile apps on the market. You can convert scanned PDFs with both tools mentioned above, because they have integrated OCR technology.
Here's how to convert a scanned PDF to Word online without software and email registration, on any operating system: Windows, Mac, Linux, or a mobile device.
Click here and drag and drop the PDF file. There is no limit on the file size, but too big files may result in a longer conversion. If your file is stored in the cloud, click on Google Drive or Dropbox icon to import your PDF.
Click to download the converted file. The Download file button will appear once the PDF conversion is completed.
Convert Scanned PDF to Word Offline
To Convert a PDF to Word offline, you need to have a PDF conversion program installed on your computer. Here we will show you how to that with PDF Converter Elite:
Download the program here.
Run the program and click the Open icon to locate a scanned PDF you wish to convert.
Click the Edit menu and tick Convert Using OCR option. You will find it in OCR Options section. In that way, you are turning on the OCR engine.
Click the Word icon to convert a PDF to Word.

On the right side panel, choose one of three selection options. You can select the whole document, only an area of the document or the certain pages. If you wish to select only one page of a document, click on Page Range and type the page number in this format 4-4 and press Enter on your keyboard.
Choose the conversion mode (standard, frames, text only) and click the Convert button.
If you have more than one file that you wish to convert to Word, you can choose Batch conversion as well. First check the option Convert Using OCR and then click on Batch icon. The interface is very intuitive so you will see how to add files from your computer, browse the folder where you will save the converted files and enter captcha to enable the Convert button. PDF to Word conversion is set up by default so you don't need to change the output format.
Edit Scanned PDF without Conversion
There is another quicker way to edit a scanned PDF document without converting it to Word. If you want to delete some parts of the document or to add text, you can use advanced editing options in PDF Converter Elite 5.
Extract PDF pages you don't need by using Split PDF
Delete Pages
Delete text
Add text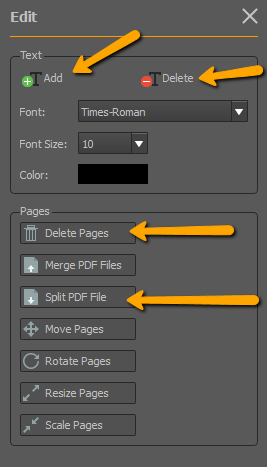 Assuming you want to add more text, just click on Add and then on the document and start typing. When you finish press Enter. Deleting text works in the same way.
Depending on your needs, you can choose between online tools which work on every computer and mobile device or desktop solutions such as PDF Converter Elite. In the end, it all depends on your workload and how often do you need to convert scanned PDFs.