Although there is probably no such computer user who has never heard of Word or Excel file, there are a probably a lot of them who have never heard of SWF file format. This extension stands for small web format and it is usually known among people who deal with multimedia and vector graphics. SWF is actually an extension for a Shockwave Flash file format owned by Adobe. As SWF files contain sound, video and vector based animations, they can be viewed in a web browser with the Flash plugin.
For the same reason that MS Office users convert Word and Excel files to PDF, SWF users also sometimes need to convert swf files into PDF. That can be a tricky thing to do, since most of the regular PDF converters can only deal with text documents and not with videos. Luckily, there is a way to convert SWF files to PDF and chances are you have never heard of it before.
If you follow these easy steps, you will get your PDF in just a few clicks:
First you need to download this PDF Converter on your computer. In addition to converting PDF files to different and editable file formats, this PDF conversion tool is also a PDF creator and it creates PDF files out of more than 300 file formats. There are two ways to create a PDF with PDF Converter Elite, but in this case only one is applicable – via the virtual PDF printer.
What is a virtual PDF printer? Where you can find it?
Once you install PDF Converter Elite, the print dispatcher will be automatically installed on your computer. It enables you to create a PDF directly from a file application. In other words, if you want to turn a Word file into PDF, you won't need to open the program in order to create a PDF; you will be able to create a PDF directly from MS Word. The print dispatcher can be found in the File tab of any application, in Print options. The steps for printing a file to PDF are actually the same as the steps you apply when you want to print a document with an actual printer. Once you click File > Print, the Print window will pop up. There you will see the list of printers, and among other real printers you'll notice the PDF Converter Elite Printer – that is a virtual printer that won't be of help if you need a paper copy of your digital document, but it can turn your file to PDF in a second.
How to convert SWF to PDF with a virtual printer?
The answer is – everything. The only way to turn your video or vector graphics into PDF document is to have a virtual PDF printer on your computer. The rest is pretty easy and it goes as follows:
Right-click your .swf file with the mouse and choose Open With > Firefox or any other browser you use.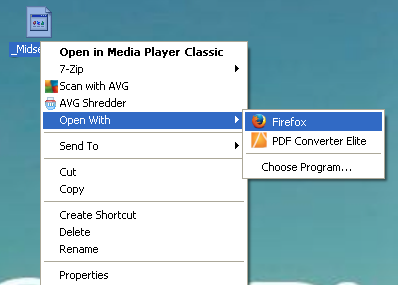 The file will automatically open in your chosen browser and the next step is to right-click anywhere on the document. You will see a window like the one shown in the image below.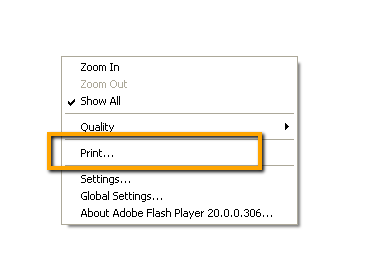 As you can see from this image, there is a Print button you need to click which will lead you to the previously mentioned virtual printer. From the list of printers, choose PDF Converter Elite 4 Printer and click OK.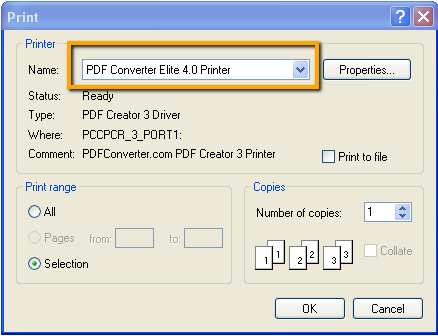 If you don't like the layout of your document – for example, it is a portrait and you need landscape – before clicking OK, click the Properties button. The window like the one shown in the image below will show up and there you will be able to change the orientation of the document. Apart from that, you can also change the page order, from front to back or vice versa.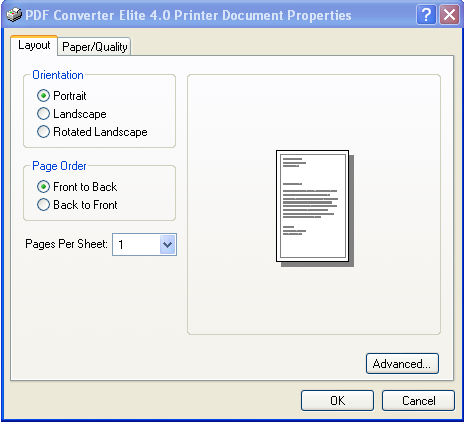 Once you are done with the advanced settings, click OK.
The final step is to save the PDF file you have just created. As soon as you click OK, this window will pop up asking you to confirm or change the file location. If you want to change it, just click on the Browse button, as shown in the image below. You also need to define your final step – what will you do after the PDF is changed? You can view it in your default PDF reader, you can open it in PDF Converter Elite 4, you can just open a containing folder or do nothing.

If you wonder what the Options button is for, it actually gives you advanced PDF creation options that you can use to create secure PDF files or to change viewing and compression settings.
And here you go, in just a few easy-to-follow steps you can convert a SWF file to PDF.