The Portable Document Format or PDF is probably one of the most used formats among computer users. When we think about PDF files, we usually visualize some important business or school reports, professional presentations, textbooks and other similar "serious" documents. We also associate PDF with electronic books, magazines and brochures. Moreover, we use PDF for creating all sorts of fun goodies that we may want to share with our friends or even present as a pleasing gift. Since you can easily create a PDF from almost any type of file, no reason not to convert an image to PDF.
For instance, you can create PDF albums from images and photos discovered online, on sites like Pinterest. We all know that Pinterest is a great place for finding awesome photos and images.The site also allows us to pin our findings to personally-created theme boards. Wouldn't it be great to be able to turn some of your boards into stylish PDF photo albums that you can share with friends or even print?
The good news is that it is actually possible. There is a tool called Pin4Ever and with that tool you can actually make a photo album from a Pinterest board. Here's a quick how-to guide!
Use Pin4Ever to Make a Photo Album from a Pinterest Board
Install Pin4Ever on your preferred browser. Although the tool is not completely free, this feature is available for all users.
After installation the tool will pop up at the top of your browser, and it will look like this:

Login to your Pinterest account and click on the Run Backup button. A window will pop up with all your Pinterest boards. Tick or untick the boards according to your needs.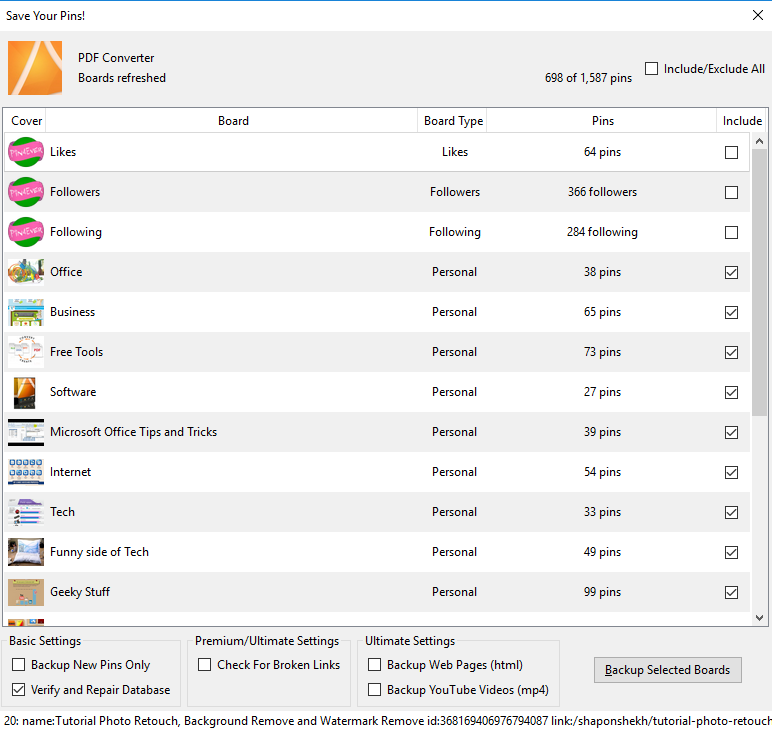 You can find the backup in Pins4Ever folder on your desktop. There are your pins as image files, together in one folder.
Convert Image to PDF with PDF Converter Elite
To make an album of these images, first convert images to PDF and then create a photo album in PowerPoint- check the guide here. To convert images to PDF, you can use our software PDF Converter Elite or online PDF converter. Let's see how to convert image to PDF with PDF Converter Elite:
Open the image you want to convert to PDF.
Right mouse click on the image and then on Print.
From the list of printers, choose PDF Converter Elite 5 Printer.
Click the Print button and then OK.
In the Save PDF As (see the image below) check out the location where the file will be saved.

If you prefer to have images in PDF format and not in PowerPoint, you can merge all these PDF files in one file and have a PDF album from a Pinterest board. You can use PDF Converter Elite to merge PDF files in three simple steps (open a PDF file, click Edit, then Merge PDF Files). If you don't have PDF Converter Elite, you can use our Merge PDF online tool, one among many other tools on PDF converter suite.