Being a project manager involves a lot of multitasking and responsibility. To stay on the right track and make sure the project flow goes smoothly, project managers rely on technology, not just on pen and paper. Taking notes, creating alerts and reminders are just some of the things that most project managers deal with using technology. In addition to that, creating project timelines gives them an even clearer picture of the project's progress. While a timeline can be of much use when it comes to better organization, with all their daily activities and extraordinary tasks that come up, project managers don't have so much time to spare on technicalities (e.g. learning how to create a timeline). For example, as a project manager, you are probably skilled with MS Excel, but it doesn't necessarily mean that you have time to learn all these Excel tips and tricks by yourself. For that reason, it can be less time consuming to consult some of these straightforward Excel tutorials that give you clear instructions on making a perfect Excel timeline for your next project.
To create such an Excel timeline, just keep reading and follow these steps.
How to Create a Timeline in Excel?
Run Excel and click on the SmartArt from the Insert tab.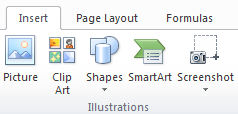 The SmartArt graphic window will show up where you can choose the type of Process. There are many types of processes you can choose from, such as Continuous Arrow Process, Staggered Process, Circle Arrow Process, Basic Bending Process, Converging Arrows etc.  In this example, we'll choose the Basic Process.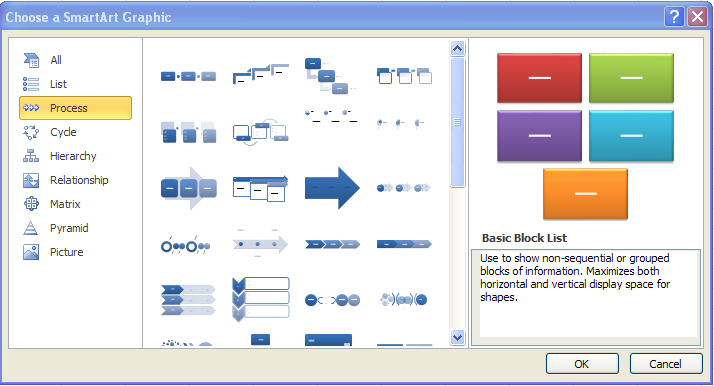 Once you select the process, click OK. A timeline graph will appear in the spreadsheet and you will be able to enter the text and to change the size of the text box.

If you want to add more boxes (shapes), you can easily do that by clicking on the existing timeline exactly on the spot where you want to add an additional shape. Then click on the Add shape before or Add shape after in the SmartArt Tools Menu, the Design tab.  You can also move entries if you click on an entry and then drag it from one place to another.

Change the Look of Selected Shapes Only
Click on the Format tab which is next to the Design tab in SmartArt Tools.  First select the shape you want to change and then click on the Shape Style you want to apply. In addition to that, you can change the color of the shape fill and outline. Furthermore, you can add special effects to the selected shape.

If you want to change the angle of a specific page, in the same Format menu, at the right side, you can click on the Rotate button. There are options to rotate right or left, to flip vertical or horizontal.
Improve the Whole Excel Timeline Layout
If you don't like the default layout of your Excel timeline, you can change the whole layout. By applying these settings, your timeline will be turned from basic to more complex or visually appealing. In the example below, the alternative flow layout is shown.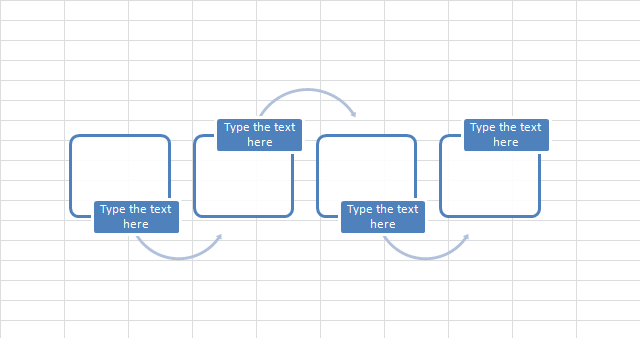 After you have finally chosen the look of your timeline, you can tweak it even further and make it more visually attractive. For instance, you can change the color of the whole Excel timeline. Next to Create Graphic and Layout tabs in the Design SmartArt Tool, you can find the tab for changing colors.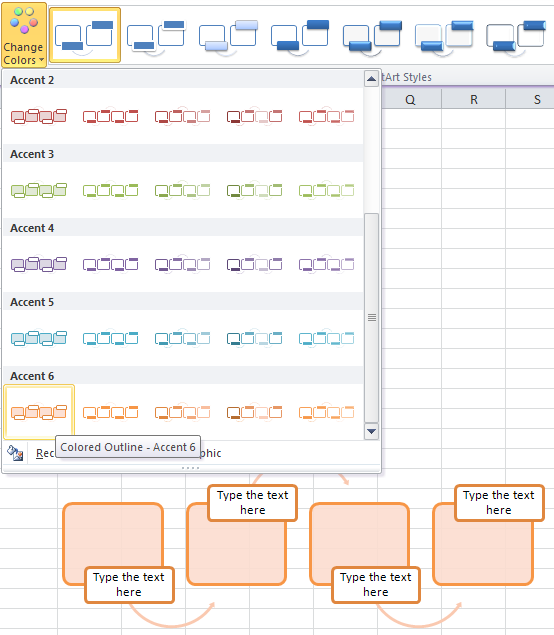 In the image above, you can see a new version of the same timeline, turned from blue to orange. Next to Change Colors button, there is an additional set of options, a wide range of styles you can apply to your timeline.
Change The Format of Your Text
Apart from Design menu in SmartArt Tools, there is also a Format menu which gives a totally new look to your text, the actual content of your timeline. In the middle tab WordArt Styles you can find all you need to change the look of your text. For instance, you can change the color of the text fill or the text outline. What is more, you can add special effects to your text, like shadow, glow, 3-d rotation, reflection etc.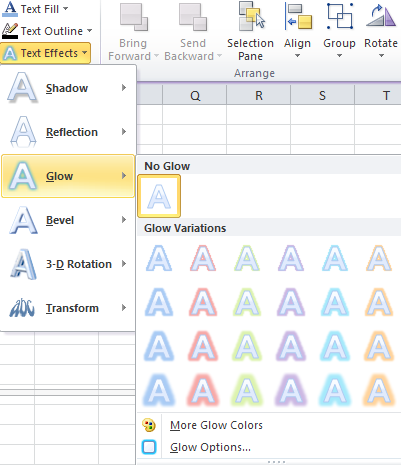 So, How Does It Seem?
Whether you are very skilled at Excel, or you just know the basics of it, by following these easy steps you will be able to create a timeline tailored for your needs. Why download Excel timeline templates like everyone else, when you can be original and create your own piece of spreadsheet art? At the end of the day, you are a project manager and you are expected to show off your best skills.