Working with big data can be exhausting and time consuming. Often those files that you need to analyze are kept in PDF format, which is known for its capacity to keep the document protected. That comes in handy for document safety purposes, but if you want to get rid of some parts of the document you will need to learn how to delete pages from PDF files.
If you deal with large PDF files, the only way to process all that data is to delete unnecessary pages. In a few steps you can get rid of information you don't need and have a better organized PDF document.
Use PDF Converter Elite to Delete Pages from PDF Files
Install a free trial of PDF Converter Elite here.
Upon running the program, open the PDF file you are working with. To open a PDF file, click the Open icon or File > Open.
Delete Pages option is accessible via Edit button shown in the toolbar. You can also access the Edit options by clicking on Edit menu.
If you click on Edit button on the toolbar, a sidebar will show up on the left offering you different editing options. One of them is Delete Pages button.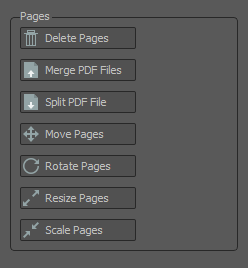 If you choose to click on Edit menu, a drop-down menu will appear where you will find Delete Pages option.
Note: This option is only available if your PDF contains more than one page.
So, what is the next step?
Delete Pages window will pop up and it will look like this: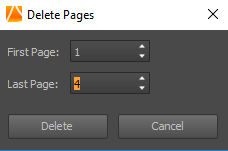 Enter the first and the last page you want to delete from a PDF and click the Delete button. If you have changed you mind , click Cancel.
Note: If you want to delete only one page, choose the same number in both places.
And that's it! In a few simple steps you can delete pages from PDF files and manage your documents without irrelevant data.