When you spend hours working in front of your computer, it is inevitable that you will chance upon a lot of interesting things. Whether you don't have time to read an article during working hours, or you want to bookmark some clothes or gadgets you want to buy later, there is no quicker way to save your findings than to bookmark them. The problem can arise if you want to check out those things you found, on a personal computer. Today we will show you how to export Chrome bookmarks to another computer, or to sync it with other Chrome browsers or to move Chrome bookmarks to a different browser.
How to export bookmarks from Chrome to another computer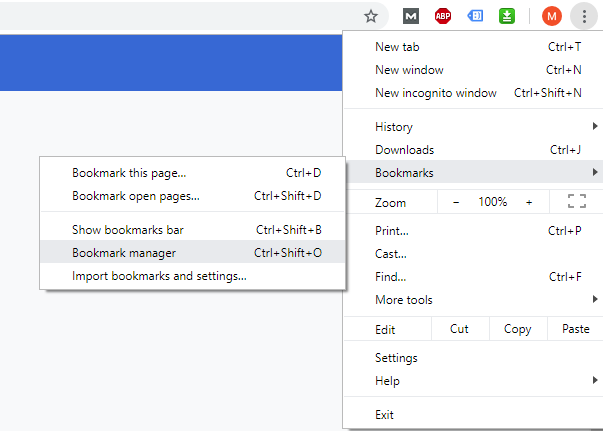 The following step-by-step guide is for exporting Chrome bookmarks. Once you finish these steps you will get an HTML file that you can easily:
send to your email,
upload on the cloud or
copy it on a USB drive.
In all three ways you can transfer the bookmarks from one computer to another. But let's see first how to get a list of all Chrome bookmarks in HTML format.
Open Chrome browser and click on the 3 dots in the top right corner.
Hover the mouse over Bookmarks to open the dropdown menu, as shown on the image above.
Click on Bookmark manager.
In the top right corner, click on the 3 dots menu, not the one you clicked the first time but the one below.
Click on Export bookmarks as shown on the image below.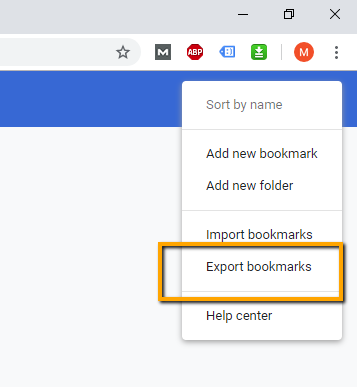 Before you click on the Save button, check the file name and location, you can always change them according to your preferences.
How to sync your bookmarks to any Chrome browser
If you log in to the same Gmail account on multiple computers, you can use the sync option and have your bookmarks appear on any Chrome browser where you log in.
In the top right corner, next to the 3 dots, you will see a user icon. It should be a first letter of your user name.
There you will see the option to sign in or sign out and to turn off or on the sync. If the sync is turned off, just click on the blue button to turn it on.
All your bookmarks will appear in any Chrome browser when you sign in with the same account.
For more specific sync settings, head to the Settings options that you will access through the three dots in the top right corner. Click on Sync and Google services. If your sync is turned on, you will see the option to Manage Sync.
It is set up by default that everything is synced, but you can turn off that option and sync only bookmarks.
Move bookmarks to another browser
If you use a different browser on your personal computer, you can still export Chrome bookmarks and move them to Mozilla or other browsers.
Once you export Chrome bookmarks by following the steps we explained above, you will need to import the HTML file in a new browser.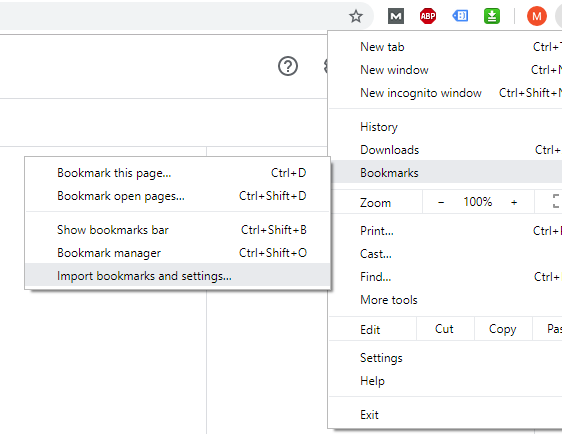 Click on Import bookmarks and settings in the Bookmarks drop-down menu, as shown on the image above.
From the list of browsers, choose the one where you want to import your bookmarks. Uncheck other things from the list, such as passwords, browsing history, if you don't want to import that as well. To start the process click on the Import button.