PowerPoint is definitely the first choice when you need to make a presentation. But when you need to present it, some problems might occur. For instance, the device you want to use to present the slides, may not have PowerPoint installed. Also, if you need to upload your presentation in the cloud, it may not look exactly the same. To avoid possible problems, you should learn how to convert PowerPoint to JPG.
When you turn your slides into pictures, you can view them on any device and share them easily. JPG format is much easier to work with, especially if you need to transfer files or share them with other devices. In the following guide you will learn how to save PowerPoint as JPEG and remove all the possible risks of losing the layout of your slides.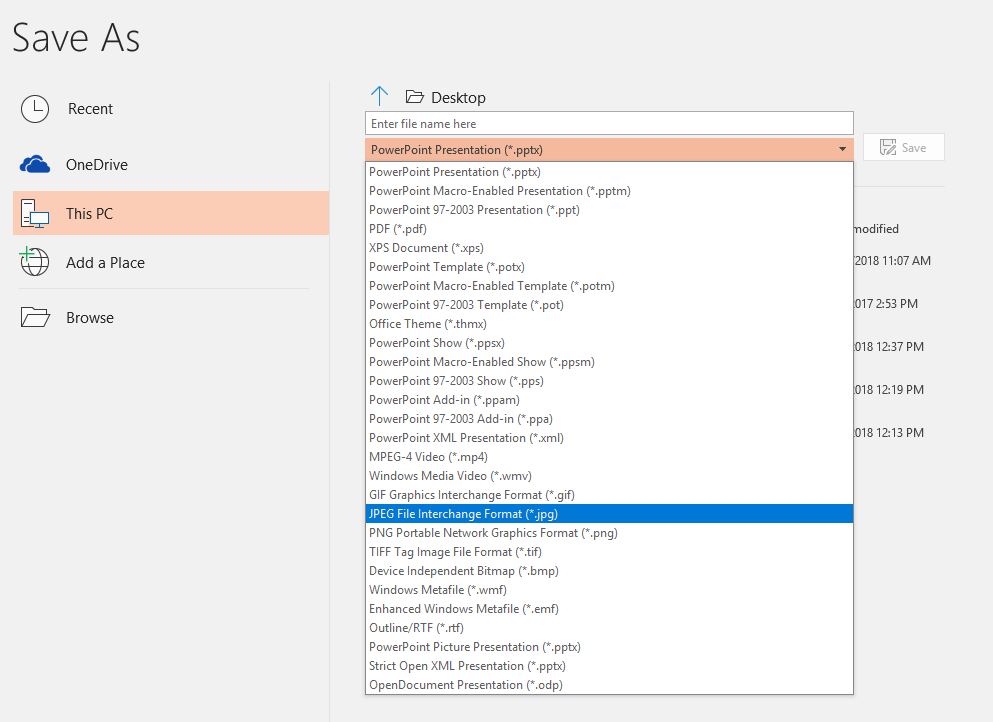 If you decide to save your slides as pictures, immediately after you finish your presentation, here's what you need to do:
Go to File menu and then click on Save as. Choose the location where you will save your file. Enter the file name and from the list of file formats, choose JPEG and click Save.
If your presentation has more than one slide, you will get more than one image. The window will pop up, asking you "Which slides do you want to export" and you can export only the current slide or all.
This way of converting a presentation to image is good if you are currently working in PowerPoint or on a computer that has PowerPoint installed. However, if you happen to find yourself away from your desktop computer, and you need to convert PowerPoint presentation to JPG, there is an alternative way of doing it.
How to convert PowerPoint to JPG without PowerPoint
If you don't have PowerPoint at the moment, you can still turn your presentation slides into images. You can do this on the phone, tablet, laptop, or any other device. Even if you don't have a presentation with you, you can ask someone to send it and do the following:
Go to PDF Converter homepage and choose PowerPoint to PDF tool. Upload PowerPoint presentation there. This tool is free to use, no email required.
The conversion starts immediately, so you just need to download the converted file and save it to your device.
Go back to PDF Converter list of tools and choose PDF to JPG tool.
Again, the conversion will start automatically. In a few moments, you will get the JPG file(s). The number of JPG files depends on the number of pages you have. If there is more than one JPG file, you will see that they will be downloaded as a zip folder. There are numerous tools to unzip the files, and all of them are free.
There you go, two different ways of saving presentation slides as pictures. You may find useful both of them, depending on the situation and where you are at the moment you need to convert slides to pictures.