With the job market the way it is today, people looking for employment are constantly searching for ways to get an advantage and upper hand over other jobseekers. Everyone is looking for a way to stand out in the crowd and a way to have the employer notice and remember them specifically.
This has recently led to new trends in the way in which people are not only creating their resumes, but also presenting them to potential employers.
One of the most popular new trends in resume presentation is making a colorful and an interesting infographic resume out of your credentials and presenting your qualifications to head hunters in this new and exciting way.
Naturally, as more people began to show interest in this method of resume presentation, online applications for creating them started to appear as well.
The creators of these applications have also taken advantage of the rise of LinkedIn – the world's biggest and most popular network for business professionals – creating applications that take your resume-related information from LinkedIn and turn it into a stunning infographic.
These are some of the best ones available.
1) Re.vu

One of the newer tools, Re.vu pulls your data from LinkedIn and creates spectacular looking infographics. The best feature of this tool is the career timeline that is created from your LinkedIn profile information.
The infographics do come out really well using Re.vu, but you will have to spend a significantly longer amount of time working on it compared to using one of the other available apps, since most of the details that are included in the infographic resume are not imported from your LinkedIn profile, but rather, need to be entered manually, one at a time.
However, Re.vu does probably produce the most impressive visual representations of your resume of all these tools and the most expansive and detailed one by far.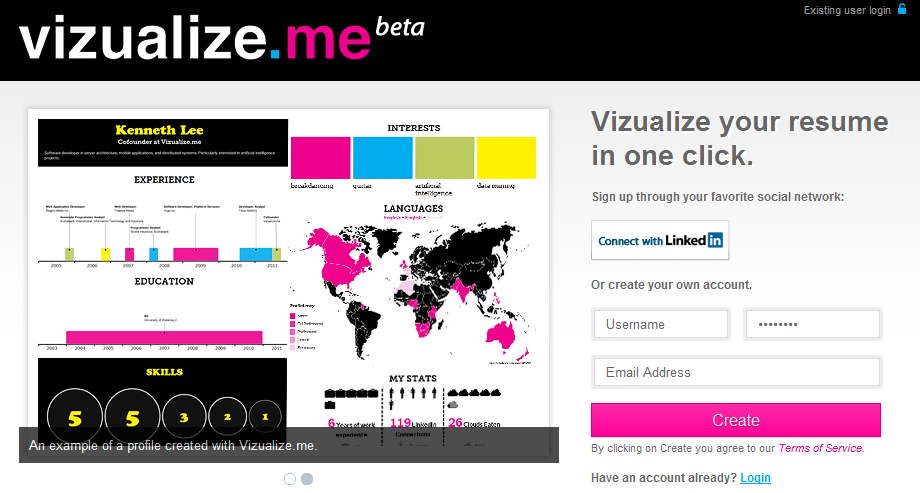 Easily the most popular application for such a process, and all you have to do is register on the site. Once you have created an account at Vizualize.me and then linked your LinkedIn profile to it, you will be able to continue editing your resume – education, work experience, interests, skills, languages, awards, and everything else that goes into a resume – and then create a very nice, web-based infographic out of this information.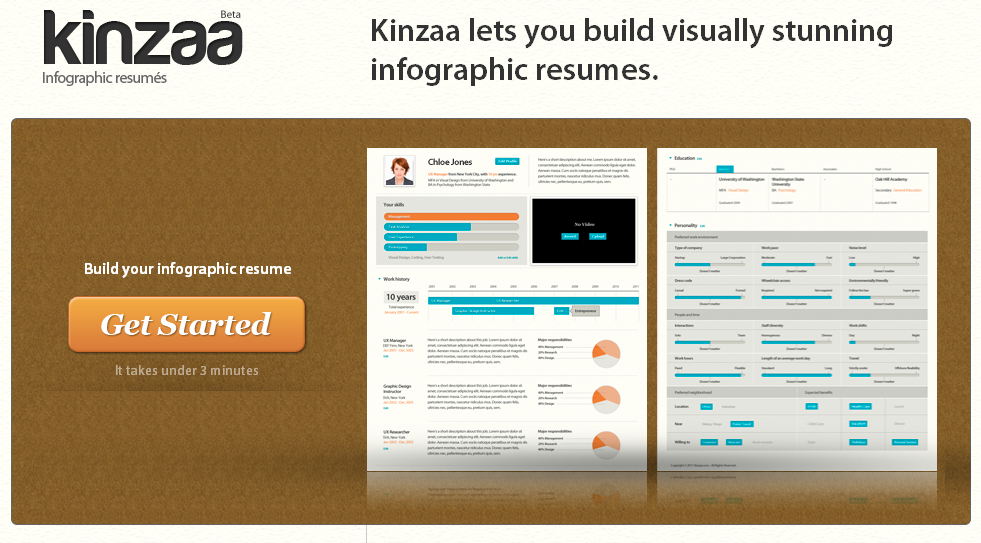 This application also uses information imported from your LinkedIn account, though the focus of the infographic resume that is created with Kinzaa is more on your work experience rather than your education and other skills.
This tool also delves into your job demands and requirements a bit deeper, helping you to define the type of work environment you prefer and what your career goals are as well.