PDF a.k.a. Portable Document Format is the single most convenient way to save, send or share online documents. It has become so popular and widely used that is often referred to as "ubiquitous PDF". One of the most obvious advantages of PDF over other file formats is that it looks the same on every device.
Thanks to its popularity, there are many tools to create PDF files and many of those are even free. But, sometimes you want to protect your files and control how others use it. For example, if you are working on an important and confidential financial report, you may want to allow only your team to see it and only your boss to print and edit it. In order to accomplish it, you need to impose some restrictions on the PDF when you create it and protect it with a password.
One easy and fully free way to accomplish this is by using Free PDF Creator. It enables you to create secure PDFs from any printable Windows format. FreePDF Creator uses 128-bit encryption, which means that the PDF it creates are very secure.
The best part is that you can easily convert to secure PDF from the directly from the program that you used to create the document.
Here is the step-by-step guide to creating secure PDFs with the FreePDF Creator:
1) Visit this page: https://www.pdfconverter.com/freepdfcreator/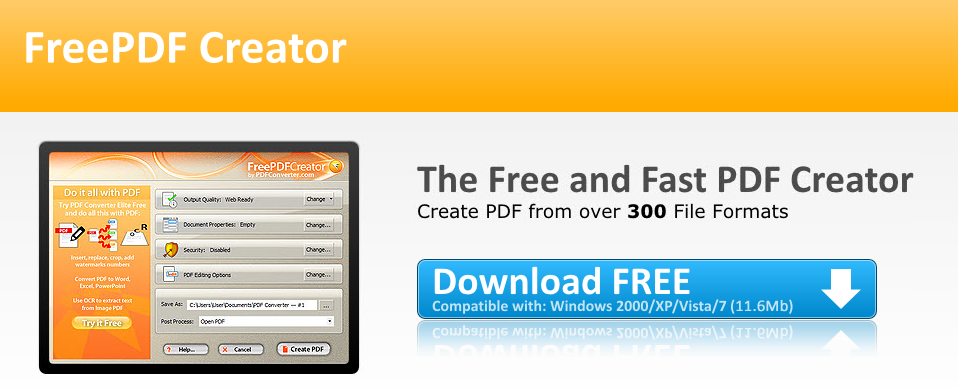 2) Download and install FreePDF Creator.
3) Start the program and click on the button Change next to Security: Disabled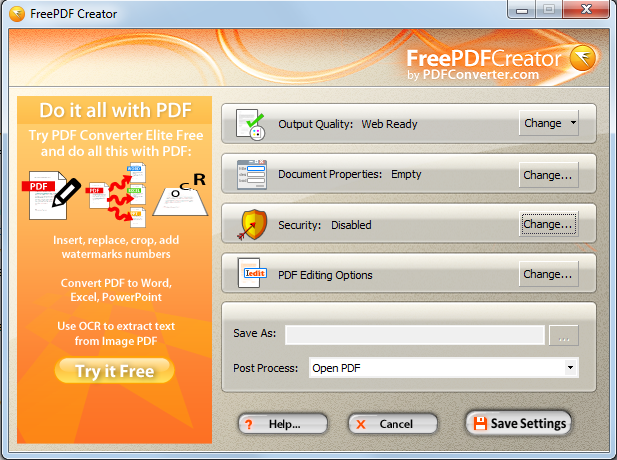 4) The new dialog opens. Here you can adjust the level of security for your PDFs. You can:
a) Set password to open document if you want to control who views your PDF files;
b) Set password to change document if you want to limit who can edit your PDF files;
c) Disallow printing and changes;
d) Disallow copying of Text, images and other content in your documents;
e) Allow support for visually impaired people by checking the box next to this option in security settings.
5) If you want to use these security settings for all PDF documents that you create, check the box Always use this setting;
6) Click OK and start creating secure PDF files.
7) Open the document you want to turn into PDF. Click on File → Print and select FreePDF Creator from the list of available printers. Then name your PDF file and choose whether you want to open, email or do nothing with the PDF immediately after creation.
8) Click the button Create PDF and your secure PDF will be ready in just a moment.
In addition to this free desktop tool, here on PDF converter you can also install a 7-day free trial of PDF Converter Elite to create secure PDF files. It has more options in terms of restrictions. For instance you can allow users to add comments in your PDF, but forbid them to modify it. You can also allow or forbid copying of content, printing, filling in forms etc.