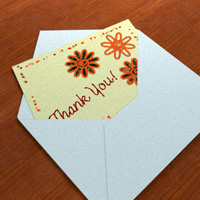 Microsoft makes it easy for users of their Office suite to create all sorts of documents and cards by providing a myriad of pre-designed themed templates. You don't need any design skills, talent or experience to make beautiful business cards, flyers, invitations or thank you notes for miscellaneous occasions. Creating captivating thank you cards in MS Word 2010 is as easy and quick as creating any other Word document.
Here's how to create thank you cards
1) Open a new MS Word 2010 document.
2) Click on the File ribbon and then select New. Once you do that, the Word will present you with a plethora of MS Office templates.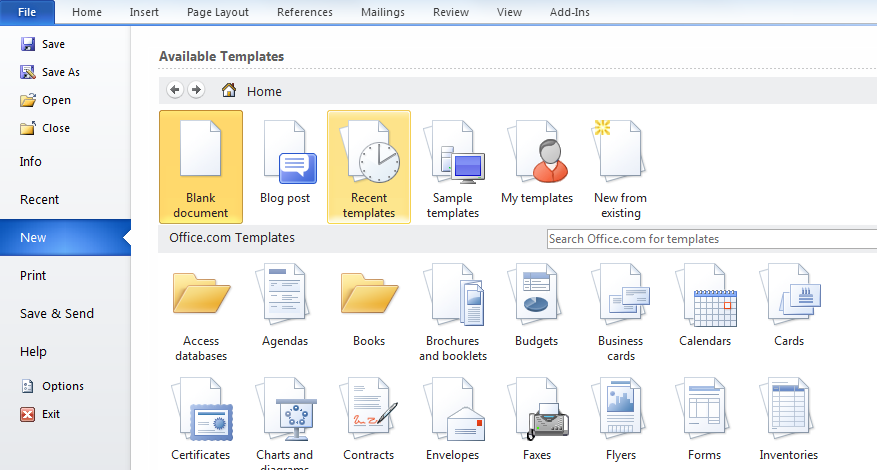 You will find there, for example, pre-made templates for creating brochures and booklets, budgets, lists and to-do checklists, inventories, forms, letterheads, resumes, and much more.
3) Here you will also find a folder named Cards. Click on it and then search for the subfolder Thank you cards.

Once you do that you will be presented with predesigned thank you cards templates for many occasions such as weddings, graduations, holidays like Easter or Halloween, and for important people in your life, like administrative assistants, little league coaches and so on. You will also find beautiful designs that you can use according to your needs or taste. For example, floral, poinsettia, clouds or formal design, there's much to choose from among the given templates.
Another way to search for appropriate thank you card templates is to simply input your query into the Search field. For example, type "Halloween thank you card" and see what comes up.

Download Thank You Cards as PDF
4) When you decide on the appropriate design for your thank your note, simply click on it and on the right side of your pane, you will see a download button right below the card template preview. Click on the Download button.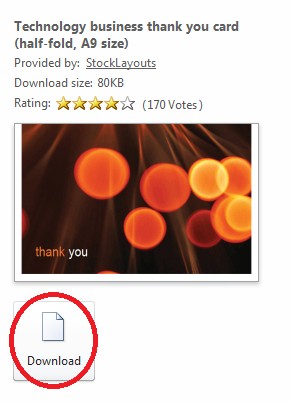 This opens a new document with the selected template. Now you can write your message and personalize your thank you card. Being a technology business, we chose a Technology Business thank you card template to thank you all for using our PDF tools.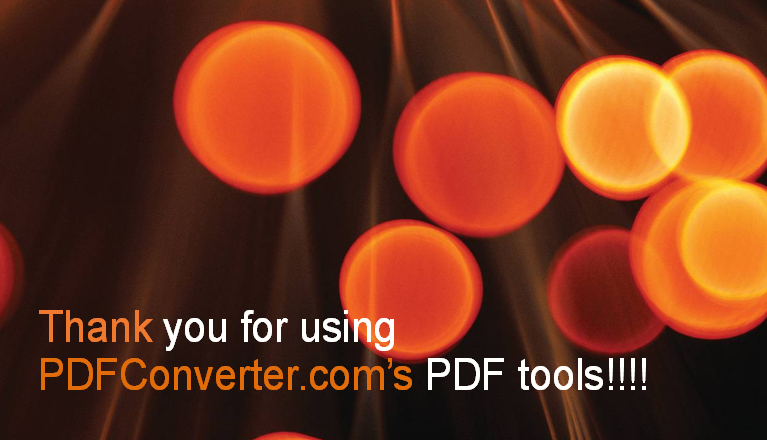 When you are happy with the final look and content of your card, you can do a lot of things with it, just like with any other Word document: save as a Word template or document, save as a PDF, print or send it using email.
A wise thing to do may be to save it as a PDF or print to PDF if you have installed the appropriate PDF printer. One such fully free program is a Free PDF Creator, which you can download, install and use for printing not only Word, but more than 300 other file formats to PDF as well.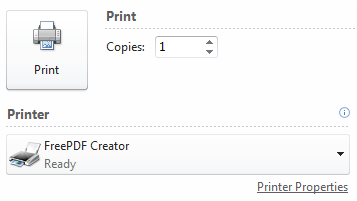 If you later need to create another thank you card in Word, you can reuse the old one. Simply convert PDF thank you card to Word and make the necessary changes. You can use free PDF to Word converter to convert even scanned thank you notes, if you lost a PDF document.