Did you know? Over 30 million presentations are created every day. No doubt Microsoft PowerPoint is the most popular slideshow creator on Earth. PowerPoint is used frequently in both business and education. It allows users to expeditiously manage their presentations, which can later be applied to a wide array of possibilities.
Another interesting fact is that 120 million people use PowerPoint for business, and more than 6 million teachers depend on it for classroom lectures.
A relatively new feature of PowerPoint is that you can embed YouTube videos in a presentation. That feature can be useful when you want to embellish your presentation and make it more interactive. Given that YouTube videos are very popular, you can consider adding them in your slides. Imagine how much information you can share with only one video!
As the world's largest free video hosting service YouTube doesn't really require any kind of special introduction. So, if you require to enhance your presentation with a Youtube video and you're not sure how to do it, continue reading this post!
How to add YouTube video to PowerPoint?
First of all, it is important that you own a 2016, 2013 or 2010 version of PowerPoint, because otherwise the embedding won't work.
The initial step is to open the YouTube video you want to embed in PowerPoint. Have in mind that YouTube is the only streaming website that is supported by PowerPoint, so you cannot use other stream-based sites.
Click the Share button on that specific YouTube page. You will find the Embed button exactly under it. Just copy the highlighted code (with the right click mouse button, or with Ctrl+C on your keyboard).

Open PowerPoint and select the specific slide you wish to add the video on. Click on the Insert tab, where you'll see the Video button among other options. Click on it and select the Online Video option. In case you're using the 2010 PowerPoint version, click the Video from Website button.

The next step is to select the Paste embed code here option, or you can just use the Ctrl+V, or right click your mouse and press Paste. Then click on the arrow to insert a video into PowerPoint.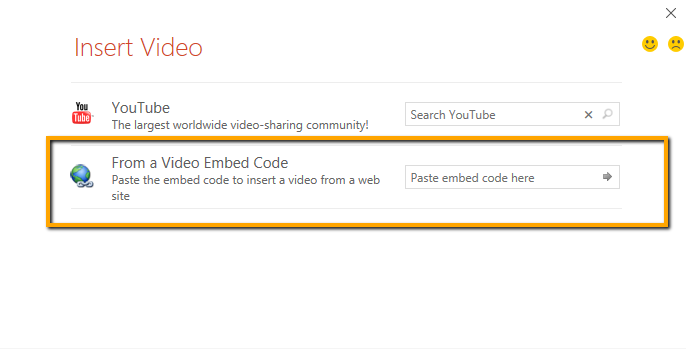 Once you've completed these steps, the video will emerge on your slide. Most probably it'll just appear like a black box, but do not fret, because this is normal.
The next phase is to select the Playback tab, which will open all the options for the video. Click the Start drop-down list and choose how the video will play. It's very important that you select one of these given options, because the video won't work without it.

When you are planning to present your PowerPoint presentation, make sure that you have a reliable Internet connection, otherwise the YouTube video won't work.