Google has recently updated its presentations in Google Docs – introducing more than 50 new features – including new themes, transitions, animations, drawings, advanced tables and live collaborations. The Google presentations, as a free alternative to Microsoft's PowerPoint,  is very easy to use and pretty intuitive. If you are someone who is still hesitant about switching to the new version, here are some handy tips and tweaks to spice up your presentations:
1) Jazz up your presentations with new themes
The new Google presentations incorporate new themes to create distinctive presentations with compelling visual styles.
To change a theme or check out what's available, go to Slide menu → Change Theme.
Simply select the desired theme and it will be automatically applied to your slides.
2) Revamp your older presentations
Earlier, it was not possible to upgrade your old presentations to a new version, but now you can revamp them by importing old slides into the new version of Google presentations. To do that:
1. Create a new presentation, go either to File or Insert menus and select Import slides
2. Select a previously saved Google Docs presentation or upload one from your computer. Click Select.

3. Select  the slides you'd like to import manually or use the option Select Slides: All  if you want to import the entire presentation. If you want to import slides unmodified, leave the box next to "Keep original theme" checked. If you want to revamp them and fit them into the look of a new presentation, then uncheck the box.
4. Click Import to finish.
3) Add Slide Transitions
The new Google Docs introduces slide transitions to move between slides with effects like fades, slide from right or left, cubes, etc.
The default option for new presentations is No Transition.
To change it and add slide transitions:
1. Go to Slide menu and select Change transition.
2. On the right sidebar, select one of six available animations from the dropdown menu.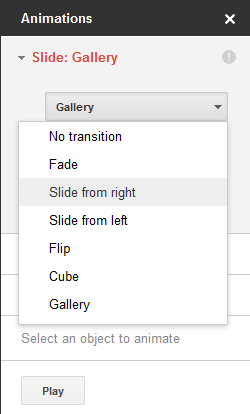 3. Choose the speed you want for your transitions: slow, medium or fast.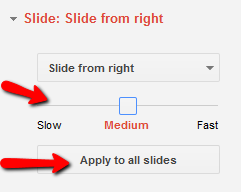 4. Click on the button Apply to All Slides.
4) Add animations to text and objects
New Google Docs presentations allow you to add animations to text or individual objects in your slides to accentuate them or simply make them more interesting. However, if you are creating presentations for strictly professional and business purposes, use this feature wisely, since too many animations may look childish and influence your audience to take you less seriously than you would want them to.
To add animations:
1.  Go to View menu -→ Animations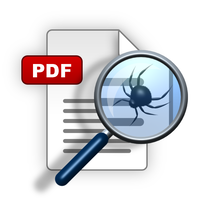 2. Select the text or object that you would like to animate and click on +Add Animation. From the dropdown menu you can select your animation. Choose whether you want your selected object or text to appear, disappear, spin, fly in or out, zoom in or out.

3. Set the timing for your shape's animation by clicking the menu On Click.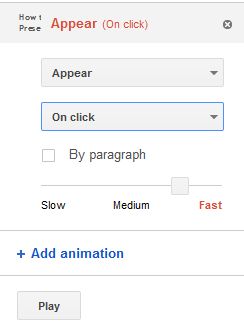 4. Set the speed of your shape's animation by using the slider.
5. Click Play to see it in action.
5) Insert Word Art
You can easily insert Word Art into the new Google presentations. Click on Insert menu -→ Word Art. Type the text you want. If you want your Word Art in multiple lines, use Shift+Enter. When done, click Enter to insert the Word Art into your presentation.

You can further format and style your Word Art text and change the color, font, size and line weight by using appropriate and widely recognizable Toolbar icons.

6) Enhance tables
Google Docs now enables you to merge and unmerge cells in your tables. This feature definitely enhances the look of tables created in Google presentations.
To merge the cells, select them, then go to Table menu and select Merge Cells.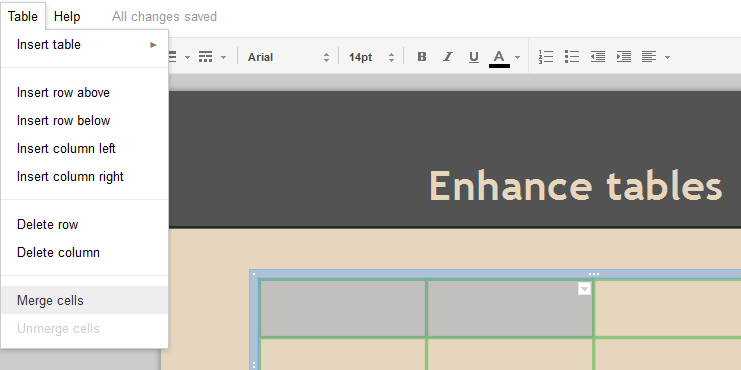 If you want to unmerge cells, go to Table menu and click Unmerge cells.
7) Find and Insert images directly from Google Search
With the new Google Docs there is no more need to open a new browser tab or window and perform a Google search to find images for your presentations. Now you can directly search Google Images by going to Insert menu, clicking Image and selecting Google Image Search from the dialogue box. Type your query into the Google search field. Google displays the relevant images. When you choose the image, click on it and confirm by clicking the button Select. It will be automatically inserted into your presentation.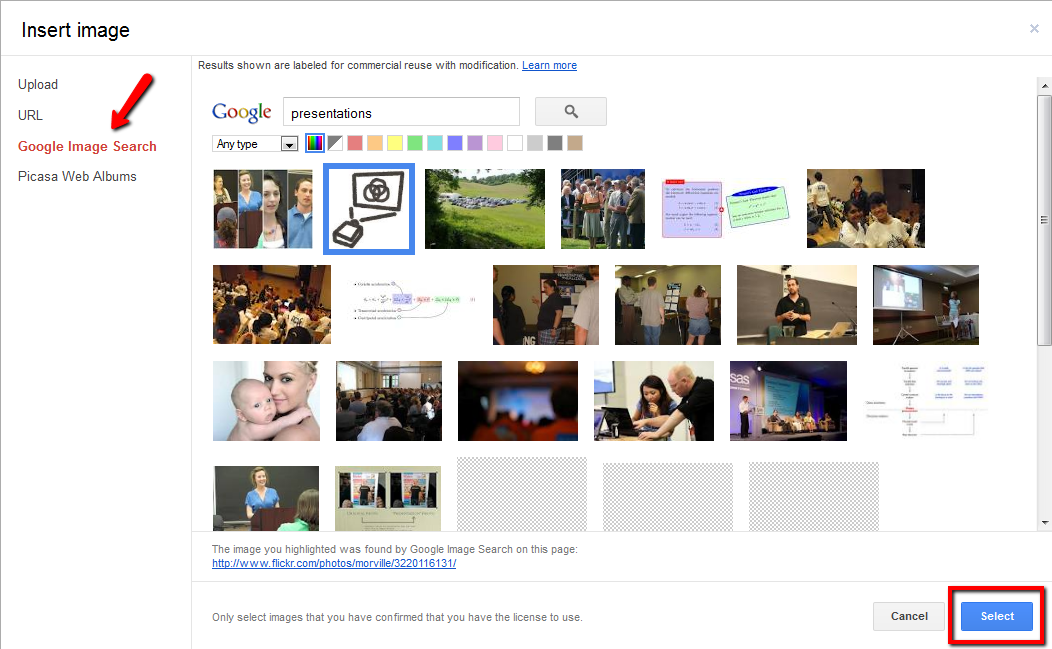 Google definitely improved its Google Docs suite a lot. It is still not as powerful as Microsoft Office, but it is a great free alternative. Even though your Google presentation  is still no match for Microsoft PowerPoint, the above explained new features and some others are great enhancements, especially for a completely free service.