Brochures are a cheap and easy way to present your products or business in general. Well designed brochures that depict your business proposal or product details can result in higher revenue or at least bigger interest in your offer. Whether you prefer online brochures or printed ones, you can distribute them successfully in no time. But first let's see how to make a brochure on Microsoft Word.

Depending on your content and offer, it may take some time to create and design a nice-looking brochure in Word. If you are in a hurry and you don't have much time you can use brochure templates in Word. Those that are skilled and have more time can make a brochure from scratch.
How to make a brochure from a template
The following guide is suitable for all versions of Word from 2003, 2007, 2010, 2013, 2016 and Office 365.

Click on New to create a new document. In Word 2007 you need to click on the Office button and then on New. In other versions, the Office button is replaced with the File menu.
Search the templates and select the brochure as a type of document. In Office 2007, the templates area is in the left panel, whereas in newer versions of Word you can type in the search bar to find brochure templates.
When you choose the brochure you like, click on it and click on Create. In Office 2007, instead of Create you will need to click on Download and then Save as.
Click anywhere on the text to replace the default brochure content with yours. In the same manner change the images of your brochure.
You can also click on the Design menu and pick the design that you prefer. You can also click on Colors and Fonts to change them and add custom watermarks.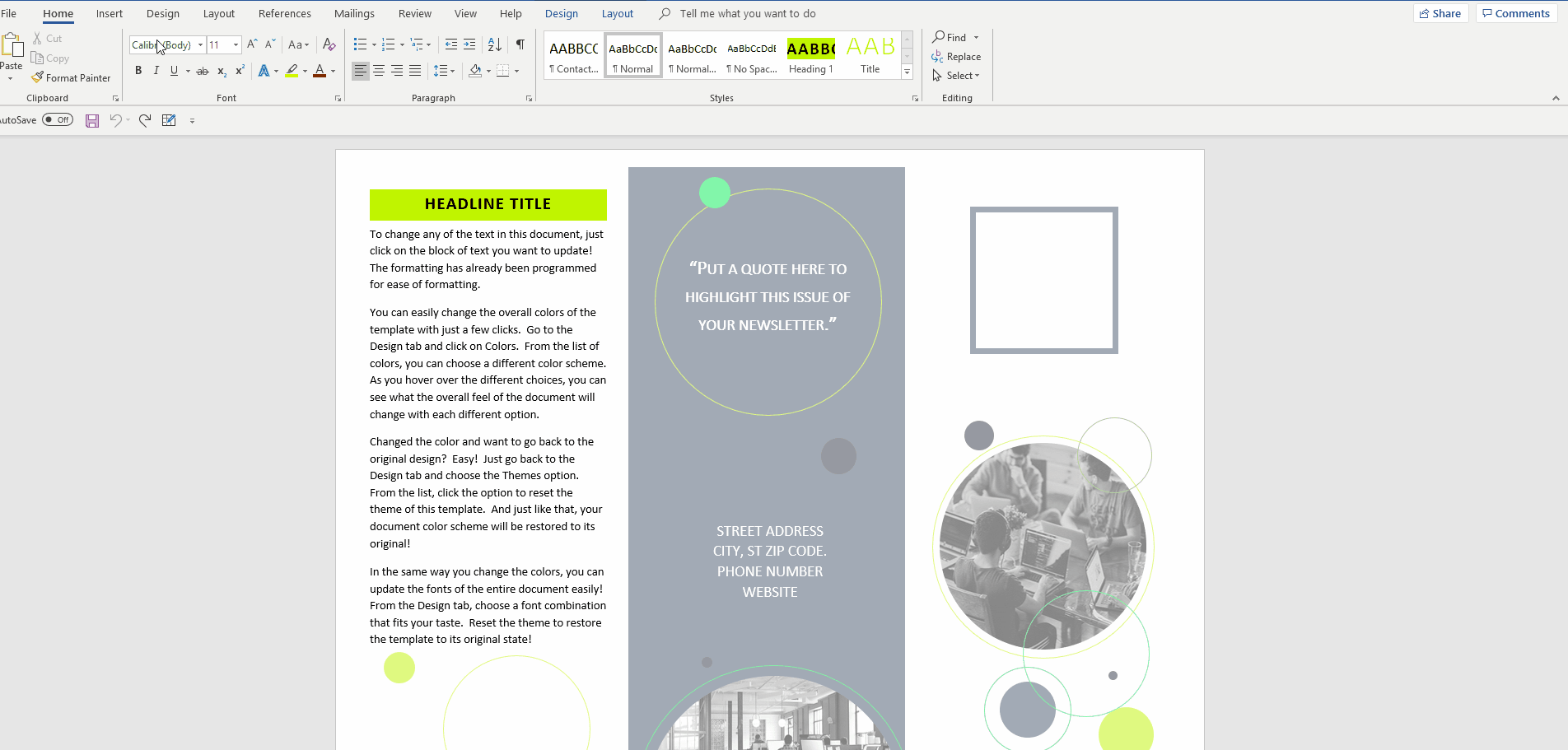 Creating your own brochure design
If you want to create your own brochure design, you will need to know to set up page layout and columns. Depending on the type of your brochure, you can choose to have a page in portrait or landscape mode.

In older versions of Word, from version 2003 to 2013, you need to click on the Page Layout button and then on Columns. In Word 2016, the Page Layout is just called Layout. In the same way, click on Columns and select the number of columns you want to have in your brochure. Usually 2 or 3 columns (two fold or three fold brochures).
Click on Orientation and select the preferred one. In Word 2003, you need to click on File, Page Setup, then on Margins and Orientation, and finally choose the preferred page orientation. In newer versions of Word, you can access these settings directly from the Page Layout or Layout tab.
You can also click on Custom Margins to change their size.
In the 1st column of your brochure, click with the left mouse button and then click on Page Layout. Choose Breaks and then click on Column option. Repeat the steps for the next column and when you are done save the document to make sure the layout of the brochure is safe.
Brochure design tips
When you are designing your own brochure template, have in mind that you can change the font of your text and colours. It is advised to use contrasts, like different colours, one lighter and one darker. As for fonts, don't use more than two types of font styles, but you can use one font in different ways such as bold or italics.

Also, don't put too much content in your brochure. Summarize the text and make it quickly readable and don't put a lot of photos. Less is more in this case.

When you create your own brochure design, you need to think of every detail, including alignments. Make sure you set up the same alignment for each column and each type of content (text, image).

From the Insert menu you can also insert different types of text boxes. Insert short text boxes for titles and subtitles and obviously, long boxes for longer text.
How do you change the picture on a Word brochure template?

You can either copy and paste images from one document/source to your Word brochure or click on the Insert menu and then on picture. Browse the image from your computer and click on Open to insert the image into brochure.
How to make a tri fold brochure in Word

If you cannot find tri fold brochure template, you can use this guide to make one from scratch.
Start by opening a Word document and setting up the Page Orientation. As we have already explained, you can easily change the orientation by clicking on the Page Layout or Layout tab (it is called different, depending on the Word version you have).

The next step is to set up the margins. Click on the margins button in the Layout menu and then choose narrow margins.

Also, in the same Layout (Page Layout) menu select three columns. The only thing left to do is to add text and images. First click on the column where you want to add content and then start typing or copy/paste the text from another source.

If you want to change the format of the text, select the text and then find Font and Colours option in Design tab to change the format and style of your text.

Add images by inserting pictures with the Insert option or simply copy and paste the image.
Brochure example
Below you can find brochure examples. Once you download them you can easily change the text and images by following the brochure design tips above.