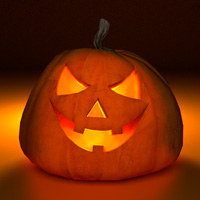 Halloween is one of the most entertaining holidays in the year, when ghosts, spiders and other scary motifs decorate our home and inspire our wardrobe. When we go to a Halloween party we get to eat a lot of candy in the trick 'n' treat tradition.
On October 31 many people organize costume parties and people get dressed up as goblins, witches, vampires or some other scary creature that no one has yet thought of.
If you are hosting a Halloween party this year, we'd like to give you some last-minute advice on how to invite people to your fun event. Everyone loves receiving original invitations and since we only have one day left, this will be a very quick and easy tip on how to create stylish party invitations for your guests in a snap! If you are a Microsoft Office user, you may want to know that you can create fun invitations in MS Word without any drawing or designing skills at all, using professional predesigned templates. And here's how!
Open the new Microsoft Word document. We are using Microsoft Word 2010 for this quick demonstration.
Download MS Word Template
Choose File tab on the menu (1) and click on New (2). You should see a list of Office templates for all sorts of purposes and specific document needs. For example, predesigned templates for budgeting, contracts, flyers, resumes and business cards. On the list, there should be Invitations (3) as well. Click on it to explore various groups of invitation templates.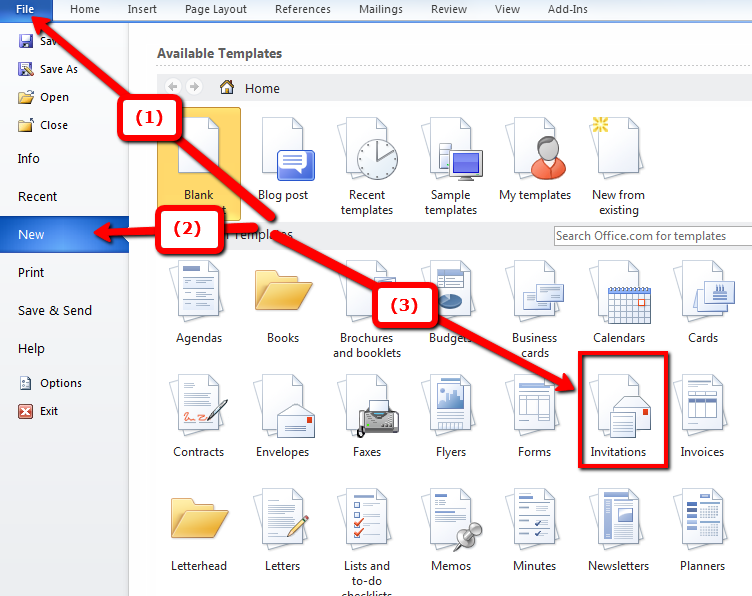 As you want to invite your friends, colleagues and/or neighbors to your Halloween party, you will select the folder Party invitations.

Once you've done that, look around for the template named Halloween party Invitation.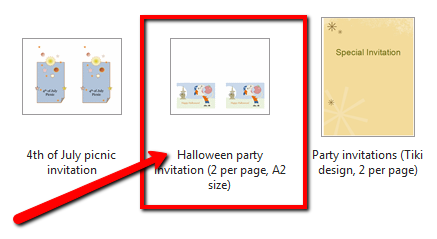 Select it and then click on the button Download.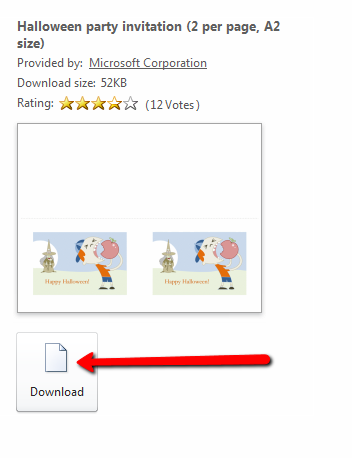 Edit Halloween Party Invitation in MS Word
As soon as the template is downloaded it will automatically open as the new Microsoft document which you can quickly adjust by entering the place, date and time of your scary event, as well as the RSVP details.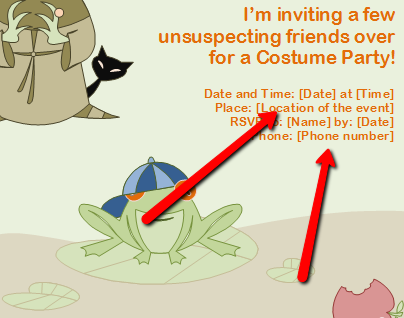 And that's all there is to it! Save the document and print or email your Halloween party invitations.
Savvy tip (especially if you plan to send out your invitations by email!): To keep the formatting of your party invitation and make sure that everyone can open it regardless of the operating system or device that they are using, convert your invitations from Word to PDF format first. Microsoft Word itself allows users to save their documents as PDFs. You can also use a more powerful PDF printer, like FreePDF Creator, especially if you want to customize your PDFs first.
Next year you can just reuse that PDF document and create another Halloween party invitation. With free PDF to Word converter you can turn your PDF into editable Word document and change the party invitation in less than 5 minutes.