Does this situation sound similar to you? You were working in a Word document and suddenly the computer crashed. Maybe it crashed because of technical reasons or the loss of electric power. Or, you closed the document without thinking and now you don't know how and if is it possible to retrieve it. Luckily, it is possible! Find out how to recover unsaved Word document and save your hard work.
There are two different types of unsaved documents:
A document that was originally saved but some of its updated versions wasn't saved. In other words, you worked in a Word document and you saved one version. After some time you added more data in the same document but something went wrong and the latest version of your work wasn't saved.
A document that was never saved at all. You were working in a document and you didn't save it at all. This is more complex situation.
So let's start from the first situation!
No matter what version of MS Word you are using, there is a way to retrieve an unsaved document. The following guide explains how to recover unsaved Word document in versions 2010, 2013 and 2016.  All these three versions of Word have the same process. Later on in the text, we will explain how to recover unsaved Word document in older versions Word 2007, 2003 and 2002.
How to recover unsaved Word document after restart or shutdown?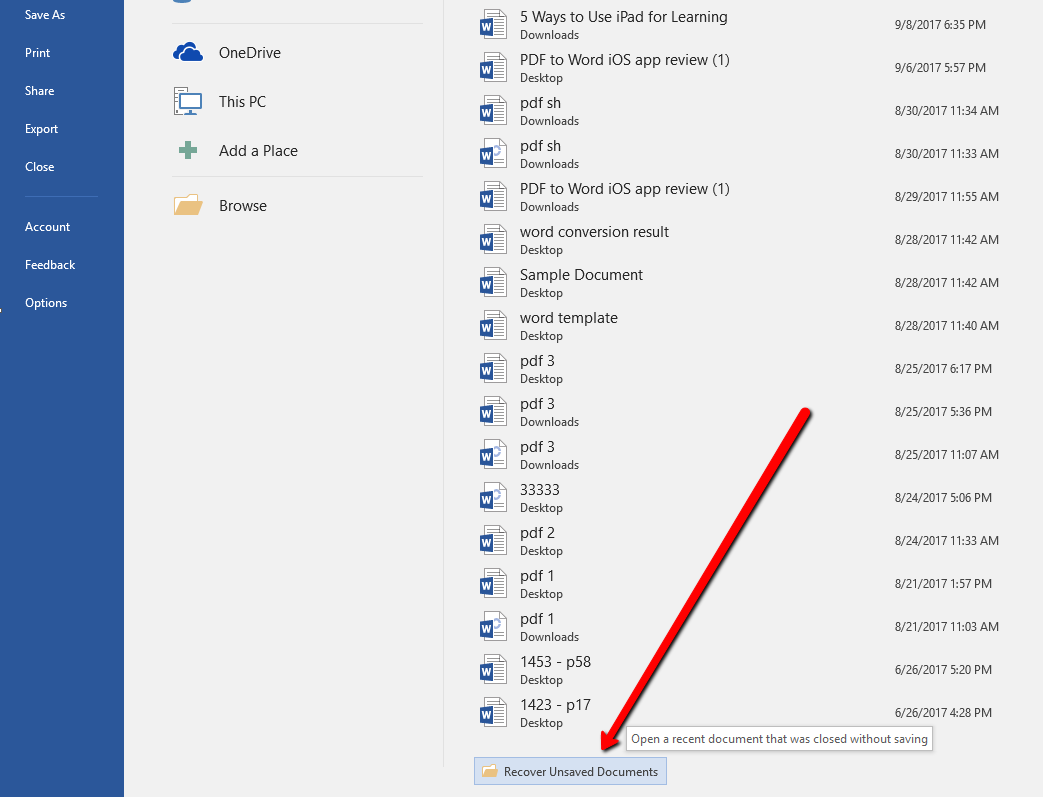 Although sounds impossible, MS Office made it quite easy to recover unsaved word document after shut down or restart. Just click on the File menu and you will see a list of recent documents as well as some additional documents options, such as Save as, Export, Print etc. If you don't see that list, click on the Recent button.
At the bottom of the document you will see the option to Recover Unsaved Documents. By clicking on it, a list of recent unsaved documents will appear, and you just need to click on the document you need.
How do I recover an unsaved Word 2007 document?
Older versions of Word, such as Word 2007 don't have this option to recover unsaved documents with the click of a button. The steps are a bit complex compared to newer versions.
First you need to click on the Office button and then the Word options button.
Click the Save button you will find in the Navigation Pane.
Have a look at the path of the file, that is placed in the AutoRecover file location box.
Now close everything and head to that location to find the lost file. The file will have an .asd extension because it is an autorecover file. As soon as you find the file, open it and save it.
How to recover unsaved Word document in Word 2002/03?
These old versions of Word have a totally different procedure compared to newer versions.
Start by clicking on the Tools and then on Options.
In the File locations tab, click on Auto-recover files.
The following steps are the same as with the Word 2007. So close everything after you had a look at the file path and then find the file by following that path. Again, the file you are looking for will have an .asd extension because that is an extension for autosaved files.
Have in mind, if you don't see the whole file path, click the bottom arrow in the folder name in the Modify location dialog.
Where does Word save AutoRecover files?
Word saves AutoRecover files in recent files box – for Word 2010, 2013, 2016.
In Word 2010, autorecover files can be found in Autorecover file location box. In Word 2002 and 2003 you will find such files in File locations tab, under autorecover files.
As for the exact location of such files, you can actually choose it or change the default location of autorecover files.
For Word 2010, 2013, 2016, click on the File tab>Options.
A window will pop up, find the Save menu on the left.
In the Save section you will see an option (as shown on the image below) where you can set up the location.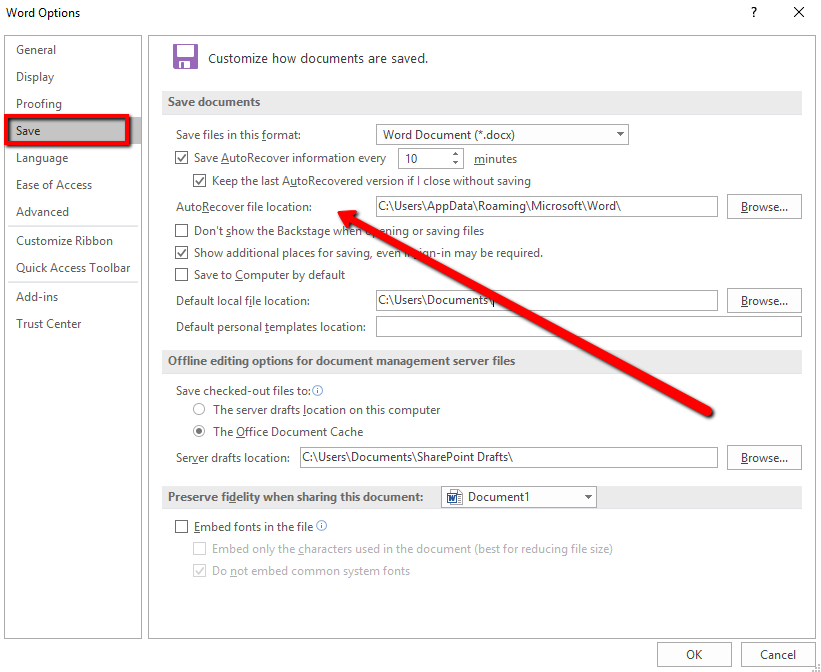 Click the Browse button to change the location where autorecover files will be saved and then click OK to confirm the changes.
What else can you change here?
It is set up by default that files are saved automatically every 10 minutes. You can change the timeframe and have your files saved every 5 minutes or so. These setting is available in the same window above the autorecover file location, see an image above.
As you can see Word saves documents by default, when they are closed without saving. As long as this option is ticked, rest assured you can recover unsaved documents.
But, what about situation two, when you were working in a document for the first time, and it was never saved before?
The same rules apply here under condition you have the abovementioned option checked- Save Autorecover information every…minutes.
You can find the autorecover files in the same way, just follow one of the guidelines above.
Temporary and Backup Files in Word
But, there is more. Did you know that apart from autorecover files Word has temporary and backup files?
Word saves backup files only if you have ticked, or it has been ticked by default the option Always create backup copy.
In newer versions of Word (2010, 2013, 2016), that option can be found in the same window we mentioned above. Click File and Save to open that window. Then click the Advanced option and tick the box Always create backup copy.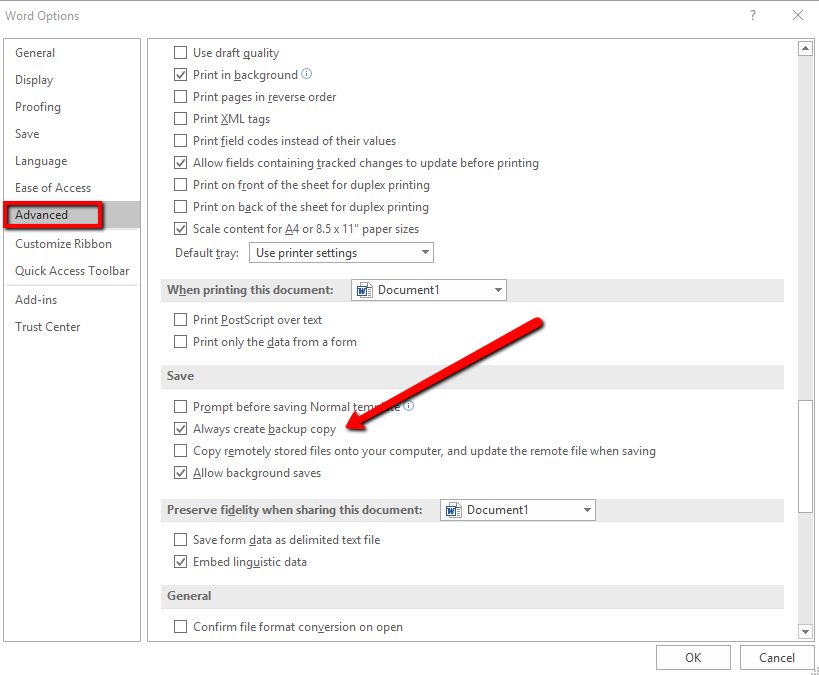 In Word 2007, the same options you can find when you click the Office button.
Did you know? Backup files have .wbk extension.
There are different method to search for backup files. You can either search in the search box of Windows, or directly via Word.
If you want to search your computer, just type the extension in the search box and all files of that nature will show up.
Another way is to open Word and search for all files. In the list of files, look for files with .wbk extension.
The step for opening all files in Word, is pretty much the same for all versions, or with slight differences. You need to click on Open and then Files of type> all files.
And what about temporary files?
Temporary files have a .tmp extension and that is what differs them from other files. Word chooses when such files will be created. The name speaks for themselves, files are on your computer only temporarily.
What is good, if the document you were working on and closed it without saving, was saved automatically as a temporary file, you can find it and save it as a regular file.
You can use the search box again and type this extension name in it. All the temporary files will be listed and hopefully the file you need will be there.
Recover unsaved Word document without AutoRecover
The latest version of Microsoft Word has autorecover set up by default so you don't need to worry. The chances you lose the whole data are very small. The only part of the document you can lose is the changes after the last autorecover. So, if you have problem with your electricity at home or your computer shuts down, you should have autorecover setup very often, like every 5 minutes.
There are a lot of Word alternatives, and before you start working in one of it, go to settings and check autorecover options. Although Microsoft Word has an automatic autorecover, it doesn't mean that other similar programs have that option as default.
Conclusion
Even if you are careful enough when working in Word, and make sure your document is saved before closing, you cannot control certain situations. Your computer might stop working due to a power loss or some technical issues, and the document you were working at the time, is at risk of losing precious data. Fortunately, Microsoft Word has solutions to help such situations pass without serious consequences. Hope that this guide on how to recover unsaved Word document gave you enough insight into the problem and its solutions.