The most important thing about dealing with business documents is to know how to keep them safe. Security breaches are very common and you never know when your precious business report will fall into the wrong hands. For that reason, you need to know how to secure your documents. No matter in what format your document is, you can turn it into a secured PDF.
How to add password to PDF
Open PDF in PDF Converter Elite and choose any type of conversion, let's say Word. In the right sidebar, click on Select All Pages. Now click on Convert. The reason you need to convert your PDF file to Word first, is because PDF Converter Elite can password protect PDF files during PDF creation. In other words, you need a file that is not in PDF form, so you can create a PDF and put password on it.
Now when you have a Word file, here is how to password protect a PDF. Click on the File button in PDF Converter Elite and then go to PDF Creation Options. In the Security tab check the box Secure PDF. Type two different passwords in the Owner and User fields. Untick boxes to disallow different permissions on the file. When you are done click OK.
If you want to use the same file permissions for other secured PDF files, you can first click on the Save as default or Save to File. The difference between these two options is that the first will make your changed settings default. The second will just save the template with your settings and next time you want to secure PDF with the same file permissions, just click on the Load from file button.
The last step is to click on the Create button, open the file you want to convert to PDF and click cancel X in the top right corner of the file. You will be asked to save the secured PDF. Just click on the Save button and that's it.
How to lock a Word document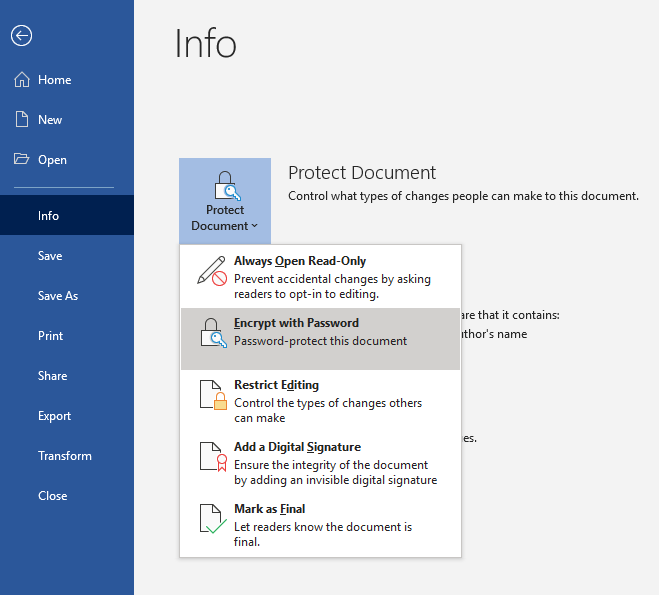 Click on the File button and then on Info and Protect Document.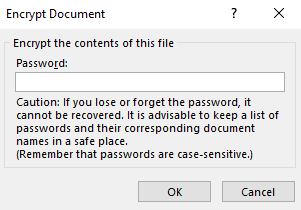 Type the password in that field and click on OK. In a similar way you can restrict editing and allow only some of these tracked changes, comments, filling in forms, limit formatting. Click on File> Protect document> Restrict editing.
How to password protect Google Sheet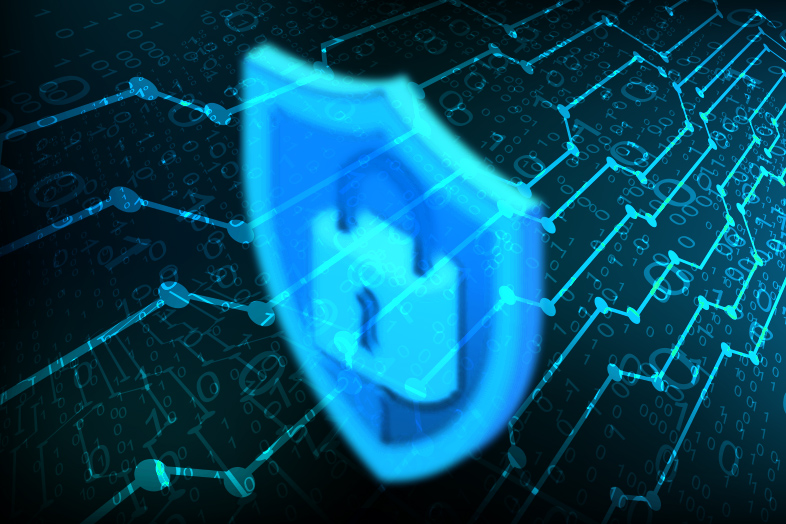 Google Sheet doesn't have the option to password protect a document, but the document is private only to the email address you use. If someone hacks your email address, he can see the document. Otherwise, no one can see it and you can keep your document secure.

To keep your Google Sheet even more protected, download it as Word and create a secure PDF from that Word file. First, click on the File menu and choose to Download as Microsoft Word. Then, open PDF Converter Elite, click on the File menu and PDF Creation Options and apply the instructions mentioned above on how to add password to PDF file. Once you set up two passwords and restrict file permissions, open a Word file in PDF Converter Elite via Create button. The last step would be to close the file by clicking on the X button and to save the secured PDF.
How to password protect Google Doc
Similar to Google Sheet, it is not possible to password protect Google Doc but here are some alternative solutions:

Upload secured PDF or any other type of document instead of storing information in Google Doc
Don't share your document with everyone
Protect your email address so it can't be easily hacked
Download Google Doc as Word and create a secured PDF from it