There are times when you need to have a PDF translated – when you buy a gadget produced in Japan or China and you have no idea what the manual says – for example. Or maybe you are selling Italian tiles, and you want to translate the brochure of the company whose products you are placing on an English-speaking market.
If you do need to translate PDF files, it is good to know that there are ways that you can do this online without having to pay a single red cent.
The easiest and best ways to translate PDF files for free online involve the use of our PDF to Word tool, Google Docs or Google Translate.
Here are three of the simplest ways to get your PDFs translated into any of the many different languages that Google supports.
TRANSLATE PDF USING PDF TO WORD CONVERTER ONLINE
If you don't like to use Google Drive or you just prefer to use Microsoft Word instead of Google Docs, there is another quick way to translate a PDF in a few simple steps.
1. Go to PDF to Word Converter Online and upload a PDF to turn in to Word. You don't need to worry about the privacy as all the files are deleted from the servers after 24 hours. After you enter your email address, click on the Start button.
2. Check your inbox. You should receive an email with the download link where you will find the converted file. Due to privacy guarantee, all the files are deleted from the servers after 24 hours, so it's better you download the converted file immediately.
3. Open a converted Word file and click the Review tab. Click on the Translate button and you will see the window like shown on the image below. Once you choose the language just click the OK button.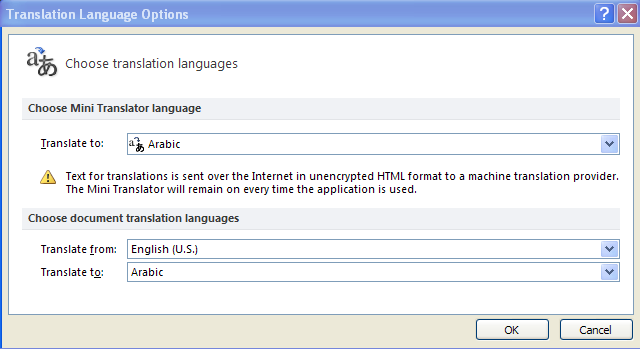 TRANSLATE PDF USING GOOGLE DOCS

1. If you do not have a Google account, click here and sign up for one – you should be able to do so in a matter of minutes.
2. Once you have done this, login to your account and go to Google Drive. Once you are in Google Drive, click on "Upload" and then "File Upload". Choose from your computer the PDF file that you want to translate and upload it.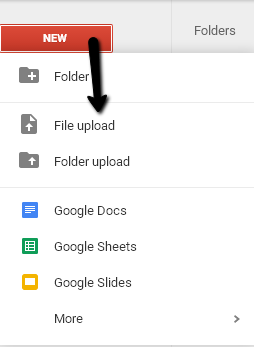 3. Right mouse click on the uploaded PDF and choose to open with Google docs as shown on the image below.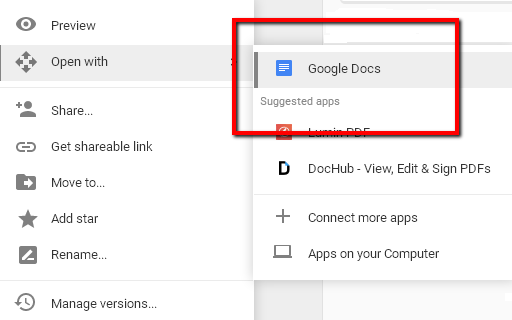 4. Click the "Tools" tab and choose the option Translate document.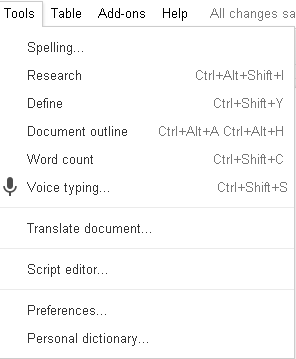 5. The window will pop up asking you to choose the language and to rename a file if you want. Once you choose the language just click on the Translate button.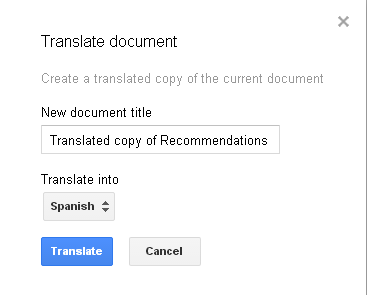 The translated document will show up in another tab where you will be able to further edit it, if needed.
TRANSLATE PDF USING GOOGLE TRANSLATE
1. Go to Translate.Google.com. Click on the "From" and "To" tabs to select first, what language the original PDF is in (From), and what language you want it translated into (To).
2. Now click on "translate a document."

3. Click on "browse" and then select the PDF file from your computer that you want translated.
4. Click "Translate." Your translated text will appear in the same window.