If you have searched for guides on how to write on a PDF, you are probably aware of all PDF benefits. Not only can PDF be used on different operating systems and viewed on every device, but it can also keep your data secure. In addition to that, PDF files are usually of smaller size which means more memory on your computer.
PDF files are often used for business or school, when you need to prepare a portfolio or a presentation. You can save different types of content in a PDF, such as images, video and audio,etc. It is very easy to create a PDF from any native application, such as Microsoft Word, Excel and other Office formats.
But here's the thing,
The problem arises when you need to add text to a PDF and you don't want to convert a PDF to Word, make changes in Word and create a PDF again. You need something quicker, to type on a PDF directly.
Can you type in a PDF document?
Yes, you can type in a PDF document but only if you use specialized PDF tools that have that feature. There are only a few PDF conversion programs that have an ability to edit PDF files without conversion. With PDF Converter Elite you can write on a PDF and make necessary edits without converting PDF to Word or other formats.
How to add text to a PDF?
After you install PDF Converter Elite, open a PDF you want to modify and go the Edit options. Then add text to a PDF by clicking on the Add button and on the exact spot on the document where you want to write.
Here is a step by step guide:

Click the Open icon and find the PDF file you need.
Select the PDF file with the left mouse click and click on the second Open button, that will show up in the Open dialog.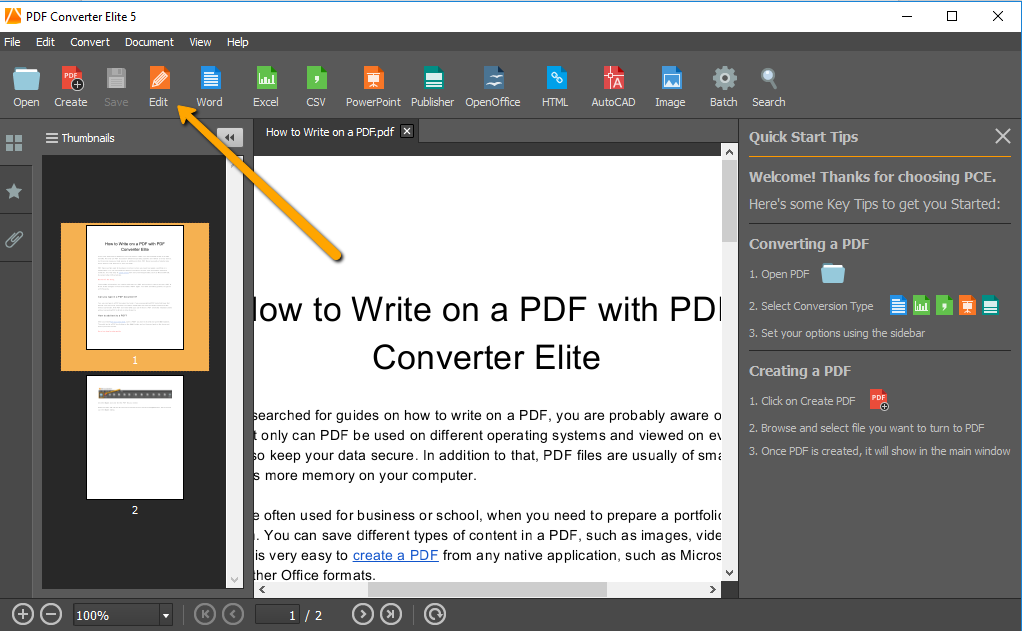 Next step is to click on the Edit as shown on the image above.
When you choose the Edit option, you will see the editing panel on the right side of the program.
It will look like this: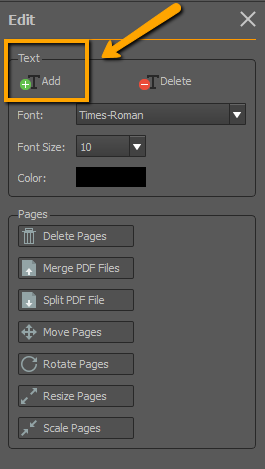 You can guess from the screenshot above that the next step is to click the Add button.
When you do that, you will notice green lines on the document. What you need to do is to click on the exact area of the document. Finally, start typing in that small box. There are limits with regards to the number of characters. Don't get confused with that small box, it will become bigger as you write.

This is how to write on a PDF, but wait there is more
As you can see, there are some text settings under the Add button. You can easily change the font style, its colour and the size.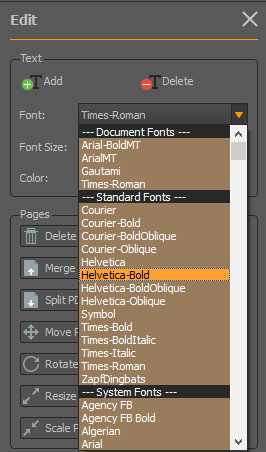 If you want to repeat the action, just click the same button again and then click on the chosen part of the document.
Since now you know how to write on a PDF, it may be useful to have in mind that you can delete certain parts of the document in the same way. Logically, instead of choosing the Add text button, you will choose the Delete in that case.