If your business or private life implies dealing with electronic documents on a daily basis, you must be familiar with PDF documents. Since 1993 when the Portable Document Format was initially released, it conquered people around the globe and became an essential part of their lives. As most people know, PDF is an unchangeable document that keeps your data intact. Not only does it preserve your work but it also prevents it from getting lost or altered when delivered to other users.
Yet, like all other things in the world, it's not perfect – it has a flaw. If you ever needed to edit the content locked in PDF, you'd most likely have to use PDF conversion tools that transform files from one format to another. If you are dealing with electronic documents, you probably know this and maybe already use some of the PDF converters. However, there is one thing that you may not know or that didn't occur to you before, and that is – to insert your PDF into MS Office document.
Insert PDF Into Excel: The Purpose
You may wonder why and when this kind of PDF tip will ever be of use to you, but the thing is – it will, for sure. The following are some of the situations where it might help to insert PDF into Excel, Word or any other editable MS Office format.
[related id="2724″]
You need to prepare a report which includes a lot of numbers and briefly explained data. Wouldn't it be useful to attach additional information and comments that further explain that document?
You are writing a research paper or any other lengthy piece of work. Wouldn't it be nice to have all sources you need for the assignment in the same document? In that case, you won't need to minimize the document and look elsewhere.
You are making a data analysis Excel document or short presentation of your work. It would be convenient to add the whole work for further reference in the same document.
So, the next time you find yourself in some of these or similar situations, don't forget to check out this short user guide on how to insert PDF into Excel:
Insert PDF Into Excel: The User Guide
Step one: Open the file you are working with. In this example we're using an Excel file but the same goes for all other MS Office file formats.
Step two: Click on the Insert menu on the left top part of the document, next to the Home menu.
Step three: Select the Object button from the Text tab as shown in the image below.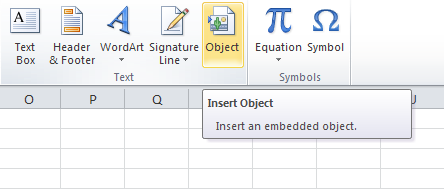 Step four: The window will pop up asking you to choose the object you want to add. To insert PDF into Excel, choose Adobe Acrobat Document from Create New tab.
Step four: Select the PDF from your files and the first page of that document will appear in your Excel file.
Additional tip: If you don't want the content of your PDF document to be completely visible in Excel, you can tick the Display as icon box and only the PDF icon will be appear in Excel. If you want to use some different graphics from the regular one that represents PDF, you can click on the Change Icon button and browse for a new look of your PDF document icon.
Note that some technical problems might occur in this process – for example, if you insert too many PDFs into Excel spreadsheet, your document may work more slowly. Likewise, if you insert a large PDF document into Excel, Excel can get stuck, but that doesn't happen with simple PDF files.