Split PDFThere are so many reasons why Excel spreadsheet is a very powerful thing. One of them is the fact you can put enormous amount of data in it. Excel can handle big tabular data, you just need to acquire proper Excel skills to make the most of it. Although Excel has so many features that can help you with data visualization, in particular situations you need to embed a document into an Excel spreadsheet. If you've never thought of it before or you don't know how to do it, here is a detailed guide how to insert PDF into Excel cell. But first, let's see why would you do it at all?
When to embed a PDF file into an Excel worksheet?
You may wonder why and when this kind of PDF tip will ever be of use to you, but the thing is – it will, for sure. The following are some of the situations where it might help to insert PDF into Excel, Word or any other editable MS Office format.
You need to prepare a report which includes a lot of numbers and briefly explained data. Wouldn't it be useful to attach additional information and comments that further explain that document?
You are writing a research paper or any other lengthy piece of work. Wouldn't it be nice to have all sources you need for the assignment in the same document? In that case, you won't need to minimize the document and look elsewhere.
You are making a data analysis Excel document or a short presentation of your work. It would be convenient to add the whole work for further reference in the same document.
You are making a product catalog and you want to add product details in PDF.
So, the next time you find yourself in some of these or similar situations, don't forget to check out this guide on how to insert PDF into Excel cell:
How to insert a PDF into an Excel spreadsheet
Step one: Open the file you are working with. In this example we're using an Excel file but the same goes for all other MS Office file formats.
Step two: Click on the Insert menu on the left top part of the document, next to the Home menu.
Step three: Select the Object button from the Text tab as shown in the image below.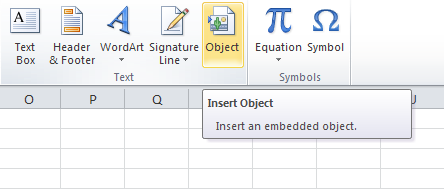 Step four: The Object window will pop up asking you to choose the object you want to add. To insert PDF into Excel, you can click on the Create New tab and from the list of object choose PDF file type. Select the PDF from your computer, click OK and the first page of that document will appear in your Excel file. If you don't want the content of your PDF document to be visible in Excel, you can tick the Display as icon box and only the PDF icon will be appear in Excel.
The other way to insert PDF into Excel is to click on the tab Create from file and browse the PDF from your computer. If you choose this option, you have one additional setting, Link to file. If you check that box the file will be linked to the Excel spreadsheet.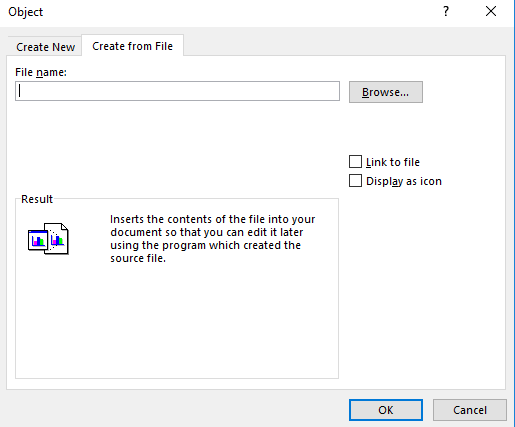 Additional tip: If you want to use some different graphics from the regular one that represents PDF, you can click on the Change Icon button and browse for a new look of your PDF document icon.
When you insert PDF into Excel, it will automatically open. You can continue working in your Excel spreadsheet and move the PDF file to another position. It behaves as any other object you insert into spreadsheet.
Adjust the inserted PDF file with the cell
Once you insert PDF into Excel, PDF file won't change its position if it's placed above the cells. If you want to insert the PDF icon into a cell, it will stay there. Try to change the cell where the PDF is placed, to hide or filter the cell- the icon won't move.
If your icon is bigger than the cell, you can make it smaller or resize the cell. To change the size of the icon, right click on it and then on Format Object. In the Properties tab, check the option "Move and size with cells". Click OK and you will see, next time you hide the cell, the PDF icon will also be hidden.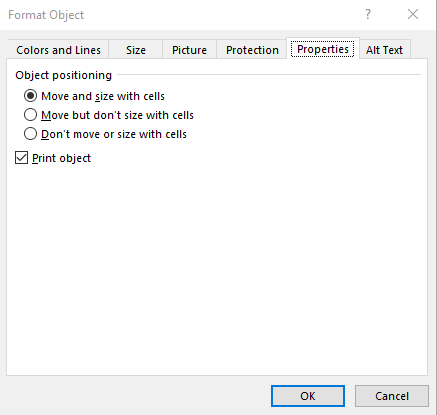 Rename the embedded PDF file
When you insert PDF into Excel, it probably won't have the name of the file that you want. Luckily, you can rename the attached PDF file in just a few steps:
Right mouse click on PDF icon.
Click on the drop down menu of your default PDF reader and select Convert.
Click on Convert to and then on Change icon.
In the Caption field rename the PDF file and click OK to confirm the changes.
Insert multiple page PDF into Excel
If you insert a large PDF document into Excel, Excel may stop working. That doesn't happen with smaller PDF files. However, you can still do it and the process is the same as explained above. The difference in number of pages doesn't change the steps for inserting PDF into Excel but there is one step you should definitely choose because it is more convenient:
Check Display as icon box so the whole PDF can open. If you don't check the box, only the first page of the file will be shown in Excel which may be confusing. It will open the whole PDF if you click on it, but it is not the best solution.
On the other hand, if you want insert multiple pages of a PDF in different Excel sheets the process is a bit complex. For instance, if your PDF file has four pages and you need to insert each page in a different Excel sheet, you would need to split PDF file and then to insert each page separately.
Insert multiple PDFs into Excel
There is no way to insert two or more files at once. You need to repeat the process for each PDF file separately. But have in mind- some technical problems might occur if you insert multiple PDFs into Excel spreadsheet. Your document may work slowlier or not work at all.
Edit PDFs before or after embedding PDF into Excel
Now when you have learned how to attach PDF file in excel, let's see what else you can do in the process:
View and edit PDF file before embedding it to Excel
View and edit PDF file after embedding it to Excel
Split PDF file if you don't want all the pages to insert into a spreadsheet
Merge two PDFs into one before inserting them to Excel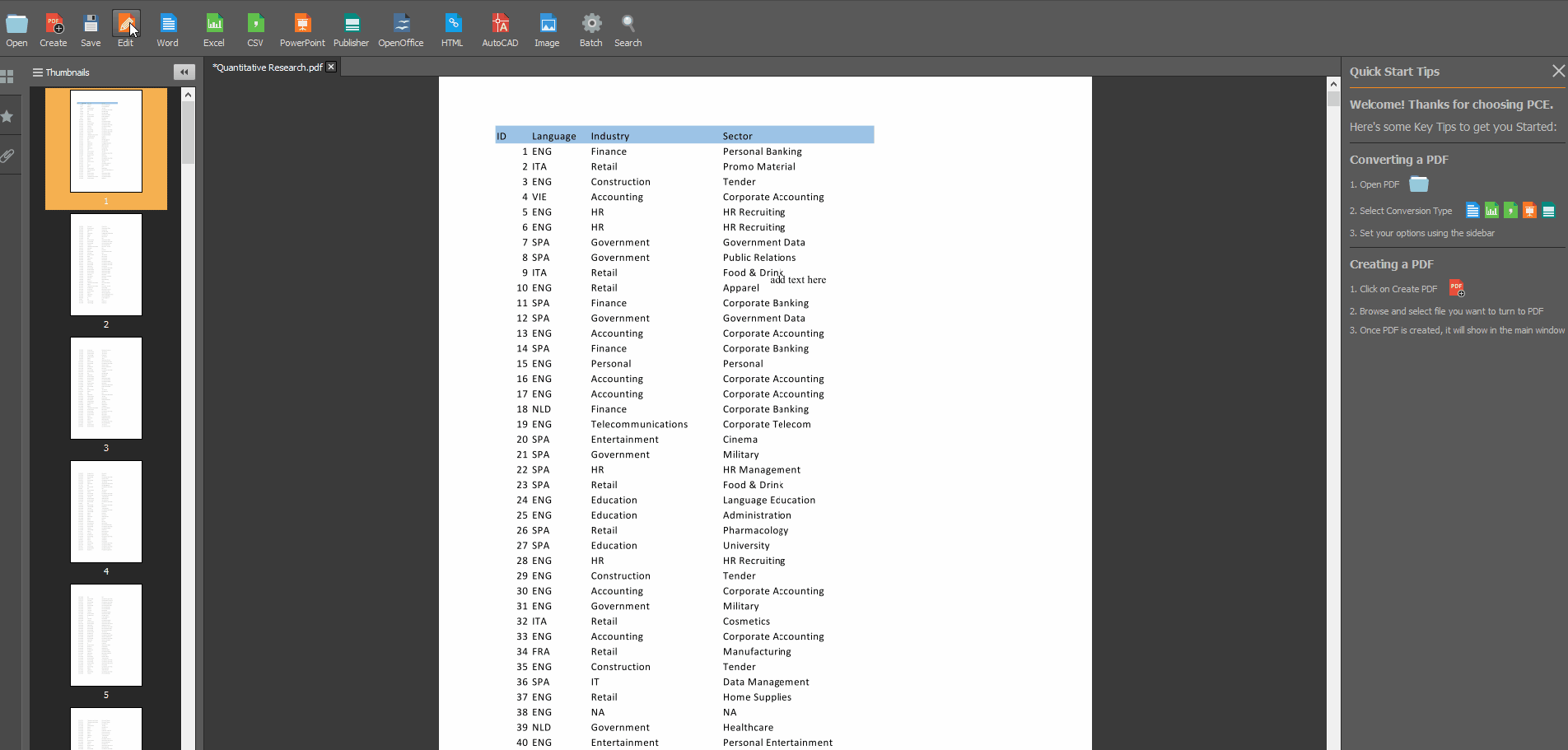 If you want to do one of these actions, you should have a PDF editor program installed on your computer. This is why PDF Converter Elite is used, to add or delete text directly on a PDF file, without conversion. You can view your PDF file in it and edit text. Have in mind, if you add text after you have attached PDF into Excel, you need to remove that PDF object and add it again.
The same PDF software can be used for merging two or more files or splitting one PDF into separate files and extracting pages you need.
When to convert PDF to Excel online
If you want to copy content from your PDF to Excel, instead of inserting the whole PDF file into spreadsheet, it is better to convert PDF to Excel. If you do that, you will have the content available in Excel file and a simple copy/paste will do the job.