PowerPoint is the first choice when you need to make a presentation for business or school. It has a variety of different templates and themes for every purpose. You can use them as an outline and add information you need or you can make a presentation all by yourself. PowerPoint has a lot of different options that will enhance the look of your presentation. The Insert menu is particularly useful, because you can add different objects, images, illustrations to your presentation. The last time we talked about this powerful presentation tool, we showed you how to embed a YouTube video in PowerPoint. In this article, you will learn how to insert PDF into PowerPoint.
Compared to images and illustrations, PDF files can be tricky especially if a PDF has more than one page. In that case, only one page of a PDF can be visible. If you need to make all the pages visible, you need to split PDF into smaller, one-page documents, and then to insert PDF into PowerPoint.
On the other hand, if it isn't important for you whether the content of a PDF is visible or not, you can display an icon instead. The icon will represent a PDF and when you click on it, the PDF will open.
But, let's start from the beginning step-by-step.
Insert PDF into PowerPoint via Insert menu
Open PowerPoint presentation and left-mouse click on the exact area of the document where you want to insert a PDF. Click on the Insert menu in the navigation bar.

As you can see in the sections of the Insert menu, you can attach tables, images, illustrations, text, symbols, media, links to your presentation. In the Text section of the Insert menu, you will see the Object icon.

Click on the Object icon and then on Create from file option. To find a PDF you want to insert into PowerPoint, click on the Browse button.
When you locate a PDF file on your computer, select it with the left-mouse click and then click on the OK button.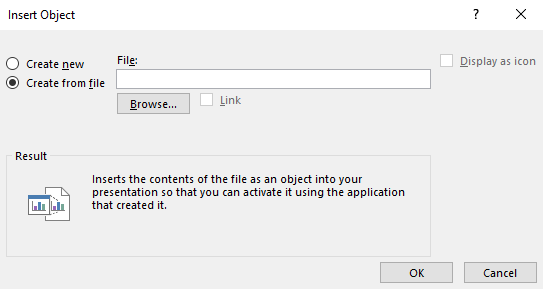 That's it. The PDF file will be visible in your presentation. If it seems too large, you can narrow it with the left-mouse click. Click on the circles, on the document edges and move it left or right. Depending on the position of the circle, you can move it right, left, up or down.
If you want to change the position of your PDF, you don't need to delete the file and do it all over again. Just hold the left-mouse button and move the file to the preferred area.
Insert PDF as an Icon
Sometimes, the presentation won't look good with the attached PDF on it. But if you need that file you can embed it into presentation and keep the presentation visually appealing at the same time.
To do so, insert a PDF into PowerPoint as an icon. Repeat the same process of inserting an object into PowerPoint. But when you open the Insert Object window, and browse a PDF, tick the box Display as icon. By default, PowerPoint will choose the design icon to be your default PDF reader. However, you can put any icon you want, it can be a unique image.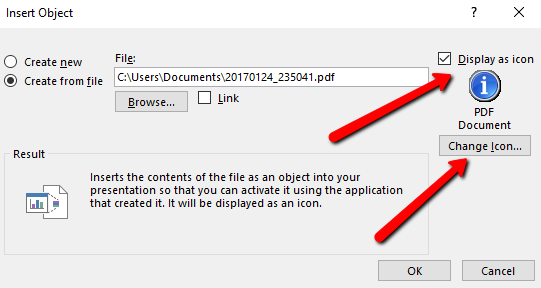 To change the default icon image, click on the button Change Icon. You will see a list of different icons available, but if you don't like them you can click on the Browse button and find another icon. Have in mind the dimensions of such images, they are pretty small. When everything is set up, click OK.
Another Way to Insert a PDF into PowerPoint
There is an alternative way to insert PDF into PowerPoint and it is equally easy to follow. Maybe it is less precise if you are not skilled with dragging files, but if you are, this is the right choice for you.
So, open the PowerPoint presentation and the Windows File Explorer. It is a place where you save your documents. Minimize the windows of the file explorer so you can see the presentation and the file explorer at the same time. Click on the PDF you want to insert into PowerPoint, hold the mouse and drag the file to the presentation.
Insert Multiple Page PDF into PowerPoint
The biggest problem when inserting PDF into a presentation is when the PDF has multiple pages. You can still use the guidelines above and insert a PDF in that way, but only the first page of a document will be visible.
So, if you want to show multiple pages of a document, you can either split a PDF into one page-document or create a hyperlinked PDF. If you decide to split a PDF, you can follow the same guidelines explained above to insert every PDF document separately.
And here's how to create a hyperlinked PDF and enable viewing the whole PDF file, no matter how many pages it has.
How to Insert PDF Link into PowerPoint
Start with the same steps=> Insert- Object- Create from file- Browse PDF
Check the Link box next to the Browse button and click OK. This will make a PDF file clickable and you will be able to instantly open it during the presentation. If the file is too big that would be the best option to go with. It will still look elegant and professional, you won't need to close the presentation to find and open a PDF. Instead, you will be able to open a PDF from a presentation, with a double click.
To make sure this will work, open the Action settings. The Action button can also be found from the Insert menu.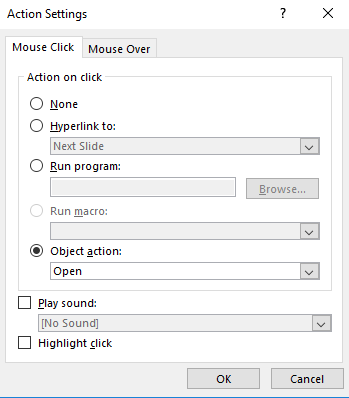 Check out if the Object action option is selected. This setting will confirm that the file will open with a click of the mouse. You can also choose a sound that will follow opening a PDF.
In some cases, this option doesn't work quite well. That depends on a PDF viewer and Windows version. If you encounter any problems with this option, you can always find help from Windows support or on tech forums.