A text document can be difficult to read, if it is not well formatted. If you are preparing a Word document, you should know that writing plain text is simply not enough, even if you add some images to it. You should try out formatting options in MS Word and present your information in a way that will be easier to read. In addition to bullet points, subtitles and using variety of fonts, you can make tables and columns. Here is a detailed guide on how to make columns in Word. It can be useful when you want to elicit some data.
You can create as many columns as you want, but if you want to present your data properly, don't make more than three columns per page.
It is useful to know that you can search for column templates in the Word template gallery, the same way you search for other Word templates. But here we will explain you how to make columns in Word by yourself.
How to make columns in Word on only one page
First of all, select the part of the text that you want to include in the column.
Click on the Layout menu, and then on the Columns button, which is in the Page Setup tab.
Choose the number of columns.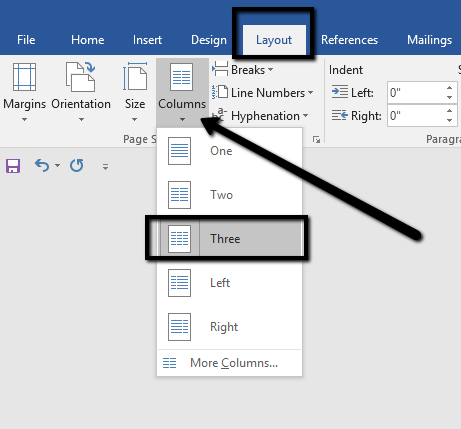 Note: If you want more than 3 columns, click on More columns button and in the Number of columns, select the number you want. Then click OK to confirm the change.
That's it! The selected text will be spread in two columns.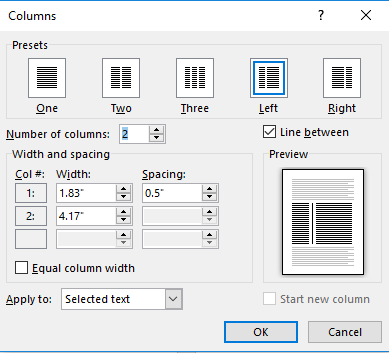 The image above is actually a dialog that opens when you click on More columns. As you can see, you can tick the box Line between if you want to have a line between the columns.
Moreover, you can tick the box Equal column width, if you need columns that are the same width. You can even change the spacing and the column width.
Apply to option is important, because you can make columns of selected text only, and not the whole document. So if you want to make columns on only one page, select the text on that page and do the rest: choose the number of columns and set up the option apply to selected text.
When you continue typing on the next page, you will see that the text will have a normal look, one column.
In case you messed something up and the text continues to present in more columns, just select the text you want to be back to normal, and choose one column.
How to format columns in Word
You can add column breaks, if you want to control where every column starts.
Left mouse click before the text part you want to move to another column.
Next to the Columns button, there is the Breaks option which you need to open.
Click on the Column button in the Breaks drop-down menu.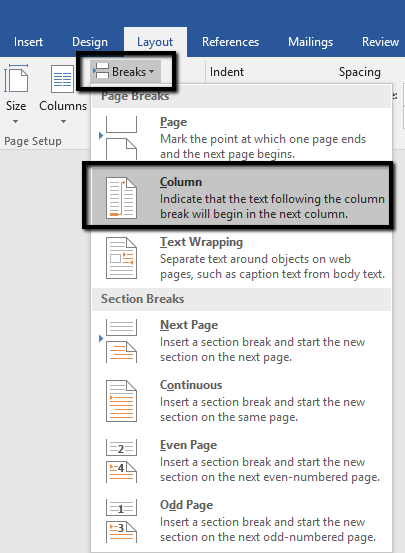 To apply additional formatting options, click on the More columns option and change the spacing and the width of every column.