With every new version of Office, Microsoft adds new features and makes changes in hopes of upgrading their programs and adapting them with the future in mind. MS Office 2010 is no exception.
Microsoft's popular word processing program Word especially, has undergone many changes when comparing the 2007 and 2010 versions.
If you are thinking about making the switch and upgrading from either Word 2003 or 2007 to 2010, here are some of the most impressive changes and additions that have been made to the latest version of the program.
Customizable Quick Access Tool Bar and Ribbon Button
Customization is a big part of the new features that Word 2010's version offers. The most notable customization features that are offered can be seen in the Quick Access Toolbar and the Ribbon Button. The Quick Access Toolbar displays all the most commonly used options – Open, Save, Undo, etc. You can find it in the top left corner of the application window. You can customize it so that it shows all of the commands that you use most commonly. Just check what you need, and these options and commands will appear on the tool bar for easy use and access.
If you already have experience with the 2007 version of MS Word, then you are already familiar with the Ribbon button. If the last MS Word you used was the 2003 version, then the Ribbon button will be new to you. A ribbon is an interface that shows you a set of toolbars through a variety of tabs shown in a tab bar on the top of the window. The biggest addition in the 2010 versions is that you are now able to customize Ribbon button completely. All you have to do is click on the following options: Office Button → Word Option → Customize Ribbon.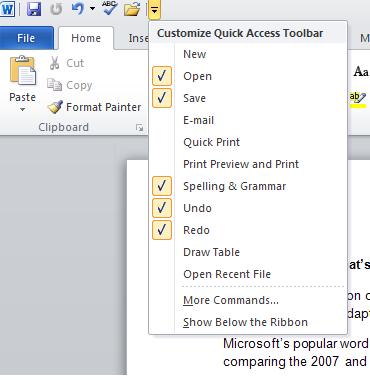 Protected Mode
Microsoft has also worked a lot on beefing up its security as well. One of the chief enhanced security features is the so-called Protected Mode, which helps in protecting your computer from viruses. If you are opening files in Word 2010 that you are downloading directly from the Internet, then the documents are opened with all editing options disabled. This means that no one but you will be able to edit the document.
In order to begin editing it yourself, just manually enable the editing option. Thanks to this security feature you are able to preview the document in order to see if it is a legit file from a source that you trust and are aware of, and if it is, then you can open it and begin to edit it. If you smell something fishy, you can just delete the file, which is a great way to protect yourself from being potentially infected by a virus.

Collaborations
Another thing Microsoft really wanted to do with Word 2010 was to make it a lot friendlier for collaborating with other authors. Word 2010 features a new option that is called co-authoring, which allows more than one person to edit a document at the same time. Once you have shared the document with others, it tells you how many authors are editing the document and it also lists all of the changes that are being made by each of the authors so that you can keep track of what is being changed.
Themes
Themes provide a framework for the way your document is going to look, and in Word 2010, you have a lot more options. There are many newly enhanced themes available in the latest version, which will give you many different options when you are choosing a layout for your page. Previewing what each of them will look like is a breeze as well, all you have to do is click the theme buttons and you will be able to see a gallery of the available themes as thumbnail images.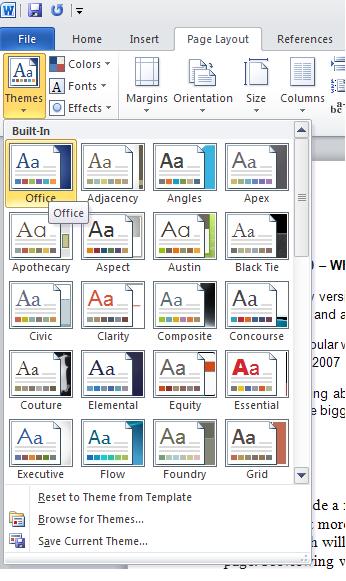 Screen Capture Tool
You used to have to either download a tool to help you with screenshots or use the old "press the Print Screen button and then past into MS Paint" option when you wanted to capture a screenshot. Word 2010 makes it easier than ever now to make a screenshot, thanks to its Screen Capturing feature. This is a built-in Word 2010 tool that allows you to make a screenshot without using a third-party program or tool. Just click on the Insert tab of the Ribbon and then click on Screenshot.

Picture Editing Options
If you are going to be including images in your Word documents, Microsoft is trying to make sure to give you enough options where you will not have to access any other programs in order to make your images look the way you want them to look. You can edit your images now within MS Word 2010 and add a lot of cool effects to your pictures in order to make them look more professional.
Just click on the Insert tab on the Ribbon button and then go to Illustrations → Picture. Once you selected the picture that you want to insert and place it into your document, you will get a Picture Tools contextual tab on top of your window, which is where you will not only find an Artistic Effects tab that will offer a lot of cool visual options for your picture, but many other options for editing your picture as well.

Background Removal
Remember when you had to use the magnetic lasso tool in Adobe Photoshop to select the part of the picture you wanted in order to free it from its background? Well, you don't have to do that anymore, thanks to Word 2010's Background Removal option. It's very easy to use. Once again, you need to insert the picture you want in your Word document and then just locate the Background Removal tool from the Picture Tools tab and get rid of the background in one simple step.