Presentations play an important role in different spheres nowadays. Business professionals, freelancers, small businesses and corporations, teachers, students, public speakers, project managers, and many others use presentations on a regular basis. Microsoft PowerPoint is probably the best known and most popular software program for creating and editing slideshows. It is packed with tons of powerful features which allow for creating and publishing striking and effective presentations. However, most professional presenters are always on the lookout for additional tools and presentation tips that will help them differentiate their presentations and make best possible impression. If you are one of them, here are three easy to use and free tools that will help you spruce-up your .ppt and .pptx files.
1. Convert presentations into 3D slideshows

SlideShare 3D is a fully free web-based tool that enables users to easily turn any Slideshare presentation into a 3D slideshow. These 3D slideshows work on all modern browsers, mobile phones and tablets, including touchscreen devices. The tool is very easy to use.
In the case that you aren't already using SlideShare for hosting and sharing your presentations, the first thing you need to do is to open a free SlideShare account and upload your PowerPoint or PDF presentation.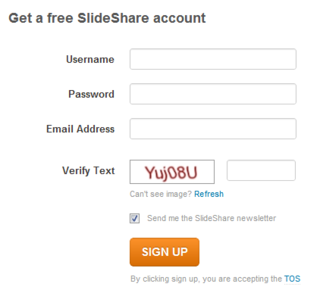 Once you do that, you can start transforming your static slides into dynamic 3D slideshows.
To convert any SlideShare presentation into a 3D slideshow, all you need to do is to enter (or rather paste) the URL of the desired SlideShare presentation into the input field and press the Magic Wand button. In just a few seconds, your linear presentation will be transformed in a compelling 3D slideshow in the cinema mode. Now you are ready to impress your students, teachers, bosses or potential clients.
2. Show, tell and share presentations

Present.me is a great online tool that allows you to import presentations and record yourself with a webcam while presenting your slides. You can actually upload content in PowerPoint, Excel, Word, PDF, Google Docs or Open Office file formats. Your files will be converted to an appropriate format so they are ready to record. One of the most useful features is the ability to easily edit your recording. When you make a mistake, simply rewind a bit and repeat. Once you're fully satisfied with your presentation, just press Publish. You can share your presentations on Facebook, Twitter, LinkedIn, by email or embed them into your blog.  The free plan includes three presentations plus one private presentation per month and 15 minutes per presentation. It's worth noting that they also offer an education plan which enables qualified educators to get annual subscriptions at a considerable discount.
3. Bring your PowerPoint presentations to life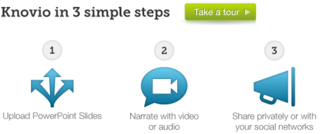 Knovio is a neat online tool for transforming static PowerPoint slides into rich video and audio presentations.  Like the above tools, it is simple to use. As it is all web-based, there is no need to download or install anything on your computer. Moreover, you don't need any video editing software or skills for creating video presentations and improving the effectiveness of you presentations. Converting PowerPoint slides into video and audio presentations is a simple, three-step process.
Upload your PowerPoint slides. They will be converted in less than a minute and ready to preview.
Narrate slides with video or audio and record the narration.
In the end, share your presentations privately or publicly with your network. One of the special features of Knovio is called "private spaces," which lets you share your presentations with select users only (students, colleagues, potential customers, business partners, etc).
If you know or use some other useful PowerPoint tools, connect with us on Facebook or Twitter and share your wisdom!