Document security has become very important in everyday lives of ordinary people. Consider that many documents are of a sensitive nature, be it legal or business documents, many people need to secure them. Putting restrictions on your document is a wise move, because only persons you've chosen will be able to see your confidential document.
Technology has gone a step further and now you can even decide what kind of document permissions you will to someone. Generally, what most individuals need is to set up passwords for their confidential documents. Securing a PDF file has become a common knowledge, but what about Microsoft Word? If you like working in MS Office, learn how to password protect a Word document.
Step by Step- Password Protect a Word Document
MS Word 2007: Review> Protect Document > Encrypt with Password > Enter a password
MS Word 2016 and 2013: File > Info > Protect Document > Encrypt with Password > Enter a password> OK
 To password protect a Word document (2016) that has already been saved, follow the steps above. If you need to save a Word document first, click on File and then on Save, to name a file and choose the location where you will save it. Before you click the Save button, click on the Tools option next to it. Go to General options and enter a password to lock a document. You can specify two different passwords, password to open and password to modify.
The passwords should be different because you may not want to give everyone access to both options. If you want to protect your document from changes, you can tick the Read-only box.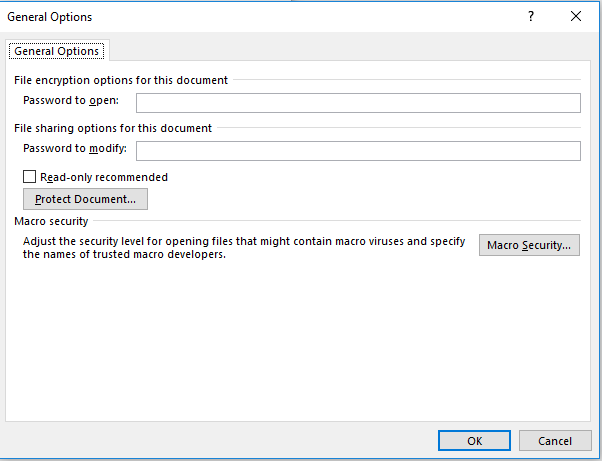 MS Word 2016 for Mac: Preferences> Personal Settings> Security> Password to open (set up a password so only individuals with the password can open that document)/ Password to modify (the document can be opened by everyone, but password is needed to make the changes to the document.)
How to Save a Word Document as a PDF
Securing a Word document from other people is very useful if you want to keep your document confidential. But there is one more thing you should protect- the layout of your document.
Since you have learned how to password protect a Word document, it would be useful to learn how to save that documents as a PDF. Why?
To protect your content and its layout.
It is known that Word documents can present data in a different way if used on different devices. If you need to share your document with someone else, whether to print it, to send it by email or to upload it on the cloud, you should better save a Word document as a PDF first. In that way, you will protect the layout of your document. Even a document receiver uses different computer or MS Office package, he/she will see the document the way it is.
Here's how to save a Word document as a PDF:
The first way is to go to File menu> Save as> Save as type> PDF. In this case you need to open your document first and save it.
If you are far away from your computer but you want to convert it to PDF, it is better to use our PDF converter tools to turn any file to PDF.
The last way is to use PDF Converter Elite desktop program for professional PDF creation. Here you can learn how to create secured and unsecured PDF files.