It's been more than one year since we released the version 4 of PDF Converter Elite. It had better conversion quality and OCR engine than PCE 3, but it had limited editing capabilities. With version 5 we tried to combine both, to keep and even more improve the conversion quality, to use the latest OCR technology, and on the other hand to restore some old editing features and introduce a totally new way of editing PDF documents. PDF Converter has just been released today and don't wait too long to discover its new features:
Meet New PDF Editor on the Market
Apart from existing editing features, we added one quite distinguished PDF editing feature. From now on you can add or delete specific parts of the text directly on your PDF. If you need to apply just small changes to your PDF, to fix typos or rearrange pages, you don't have to convert a PDF to editable file formats. With PDF Converter Elite your PDF behaves as an editable format.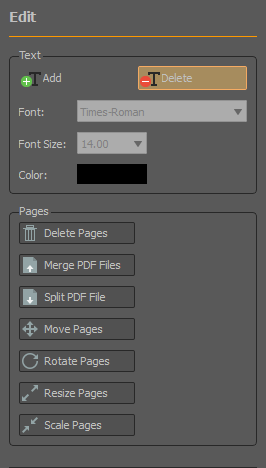 Split PDF And Merge PDF Are Back
PCE 3 users probably remember these editing features. In PDF Converter Elite 5, you can extract pages from your PDF, merge whole PDF files or only specific pages of another PDF. In addition to that, you can merge selected pages after any page of the existing PDF, not just at the end.
Convert PDF to CSV – Default or Personalized Conversion
We know how much you like to use custom PDF to Excel conversion, so we added one more conversion type that has advanced custom options. Similar to Excel, in version 5 of PDF Converter Elite you can choose to convert PDF to CSV in two ways: with or without personalization of tables, columns and rows.
Batch Conversion With Scanned PDF Files
Those users who convert multiple PDF documents to the same file format know how important is batch conversion- it saves time since all documents are converted at once. Batch conversion used to work with native PDF files only and now it works with scanned PDF files as well.
And that is not all! Download PDF Converter Elite 5 for free and take advantage of your 7-day trial period: https://www.pdfconverter.com/downloads/