Users of PDF Converter Elite can work with even big PDF documents, thanks to different PDF management features. If you are working with big data and you want to reorganize it, no need to convert the whole PDF document and copy paste the data from one place to another. There is much easier way to rearrange PDF pages without converting the file.

Before we share with you a step-by-step guide to rearrange pages within a PDF document, let's see when would you need this feature.
Managing bigger PDF files
PDF files that have a lot of pages are harder to handle because the conversion process takes more time than usual. Not to mention that with more and more pages in one PDF document, you may get lost easily, especially if you want to convert some PDF pages to Word and other to Excel.

Rearrange PDF pages so you put together all the pages you want to convert. PDF Converter Elite has an option to convert a certain page range. If the pages you want to convert are not in the same range, you can arrange them first.
Rearranging pages can be helpful when you want to divide your document in multiple meaningful fractions.
If you want to print some parts of your big PDF file, you can rearrange pages so all the pages you want to print are presented in a row. Printing will be much easier and you will save some paper.
Data analysis can also be done easier if you first rearrange the pages in a document and categorize them in meaningful parts
How to rearrange PDF pages
Start by opening a PDF document in PDF Converter Elite. Then click on the Edit button. On the ride side of the screen you will a new sidebar, as shown on the image below.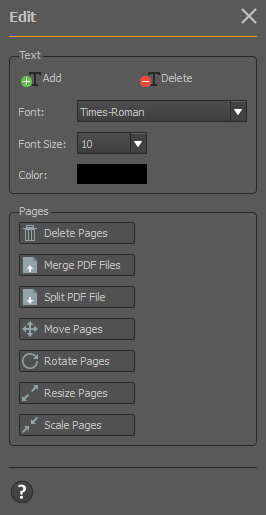 In the Pages section, click on Move Pages button.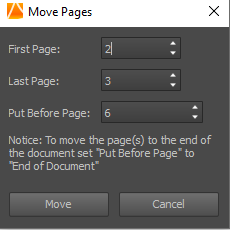 In the First Page and Last Page fields, select the page numbers you want to rearrange. Have in mind that if your first page is page number 2 and the last page is number 5, all the pages between those numbers will be rearranged.
If you want to rearrange several pages that are not in a consecutive order, you need to do it manually for all pages. So if you want to remove pages 2, 4 and 5, first enter number 2 in both fields (First and Last Page), choose where you will rearrange pages and click on the Move. Then click again on the Move Pages button and choose page number 4 as the first page and 5 as the last page.
Apart from deciding the page numbers you want to move, you need to set up where you will move those pages. In the field Put Before Page, you can choose the page number or the end or beginning of document.
When you finally choose the first and the last page and where you will move them, click on the Move button. Repeat as many times as you need, in case the pages aren't in the consecutive order.
Alternative way to rearrange PDF pages
If the first method of rearranging pages is complicated for you, here's another way. Under condition you have saved a copy of the original PDF document, you can use the second version of the document. 
When you open the PDF and click on the Edit button, click on the Delete Pages button instead of Move Pages.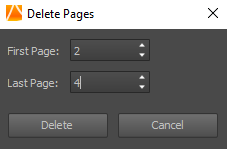 Similar to the previous method, you need to enter the First Page and the Last Page. Click the Delete button and the pages will be rearranged in a way that the selected pages will be removed and the other will be joined.