There are some Microsoft Word tips and tricks that everyone has adopted and used ever since. One of the most common Word document settings is grammar and check spelling for sure. People are often in a hurry or they think faster than they type, which results in multiple grammar or spelling mistakes. It doesn't matter if those mistakes appear due to a lack of knowledge of the used language or rather a matter of hastiness. One way or another, this mighty Microsoft Word tip always come in handy, underlining all the words that are not written correctly. The more mistakes you have in a document, the wavier lines you will see under the text. Those lines disappear when you make corrections, but it often happens that some words stay underlined because the language dictionary doesn't recognize that word or for some other reason the underlined word is incorrect, although it isn't.
In situations like these, it might feel annoying that your Word document still has underlined words in red and green colors. It can especially seem inconvenient if you want to share that document with someone. Anyway, one day you will need to remove those spelling and grammar (red) lines so your document looks much better visually.
When that situation comes, just follow this easy guide to remove spelling and red lines in MS Word:
Click on the File menu and then on Options
In the Options pop-up window, open Proofing
Untick the Check spelling as you type and Check grammar with spelling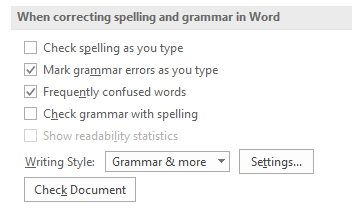 Additional tip: If you need to use those setting for one document only, instead of unticking the previously mentioned boxes, tick both boxes in Exceptions for section- Hide spelling errors in this document only, Hide grammar errors in this document only.

When you are done with the changing settings, click OK button.
So, next time you work in MS Word, this MS Word tip will prevent you feel annoyed about having green and red lines in your document.