Currency converters are needed very often in life. If you are going on vacation to a foreign country and you need to see how much their currency is worth in relation to yours, you will have to find a currency converter to reference. Perhaps you are ordering something online from a different country and the price is listed in a currency that you are not familiar with – a currency converter will let you know the value in any currency you might prefer. These are just two of many situations that would require the aid of a currency converter. Thankfully there are excellent ones that you can use online for free. Here are six great ones to check out.
1. XE Currency

XE Currency is a free, universal currency converter that allows users to calculate live currency and foreign exchange rates. The XE currency calculator provides access to every world currency. Furthermore, it converts not only currencies, but the value of precious metals as well.
This online currency conversion tool is very easy to use. You simply the amount that you want converted insert into the widget and choose your currency. For example – 99.95 USD – US Dollar. Then in the right field, from the dropdown menu you choose the currency you want the amount converted to. For example, GBP – British Pound. Click the arrow and your amount in American dollars will quickly be converted into British pounds. The XE Universal Converter uses mid-market rates.
XE also offers free, customized currency calculators to website owners to use on their websites. Webmasters can customize and seamlessly integrate the Universal Currency Converter into their websites. In this way, you can provide live rates for your website visitors, updated every day, non-stop, and all day long.
The best thing about the XE Universal Converter is that it's available as an application for the iPhone, iPad, BlackBerry, Android, Windows Phone, Windows 8, and other mobile devices. It makes calculating currencies quick and simple.

2.Travelex currency converter

Travelex is another great and popular currency site. With Travelex currency converter you can convert currencies and check out conversion rates of the day. If you want more options you can also buy money online for the best possible rates. Whether you need dollars, euros, or British pound, the tool offers normal rates, so you can order your currency online.
3. Free Currency Calculator

Free Currency Calculator is a rather basic, but handy converter. It supports 124 currencies with up-to-date exchange rates obtained from leading market data providers. Currency exchange rates are updated four times an hour. To convert between currencies, select the desired currencies from the two lists on the page and the amount for which you want to conduct the currency conversion. After clicking on the "Convert" button, you will get your currency conversion results.
4. FreeCurrencyRates.com

FreeCurrencyRates.com offers a free online currency rates conversion calculator. This tool is customizable, meaning that you can modify it according to your needs and access your personalized currency converter via a permanent link. The tool`s interface is available in English, Spanish, French, German, Italian, Portuguese and Chinese.
iPhone users can additionally take advantage of the iPhone App, which lets them to convert currencies with just a couple of taps.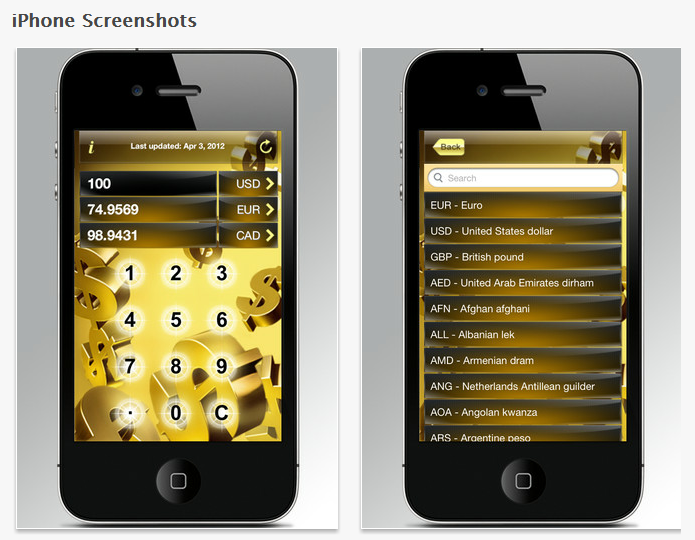 5. OzForex Currency Converter
OzForex Currency Converter is an online tool which provides free and accurate currency conversion for more than 50 currencies. Convert Australian dollars into US dollars, or Canadian dollars into British pounds, Swiss francs to euros to Mexican pesos, and more.

6. Currencies Direct
Currencies Direct is yet another helpful website which lets you calculate currency and foreign exchange rates for free.  The rates are regularly updated every 15 minutes. It is good, however, to bear in mind that the rate quotes shown serve for indicative purposes only.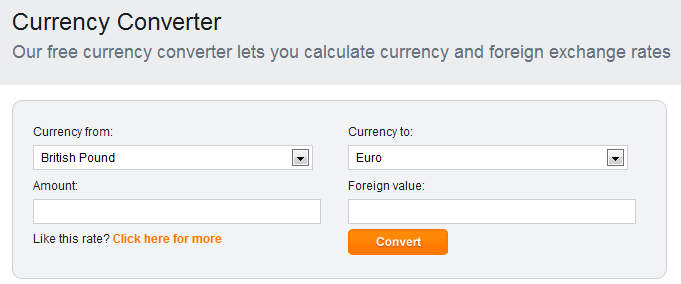 Using these tools, you will be able to find currency values in seconds and convert just about any currency into another in order to compare their values. Let us know if you have any other currency converters that you use or prefer to these.